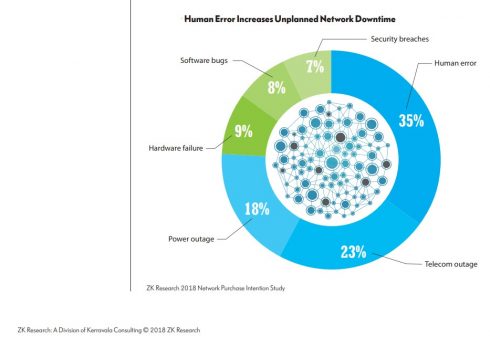 Many CIOs and enterprise technology professionals aren't prepared to automate their IT operations to meet business transformation initiatives, but a growing number are moving forward, based on projected spending.
Various studies have made that point. A survey of 1,000 IT operations professionals worldwide who spend more than $500 million per year on infrastructure management, found that 86 percent believe they lag those that have applied the most advanced approaches to automation and digital transformation.
AppDynamics' Agents of Transformation Report, released last month, also found that nearly three-quarters of CIOs, senior leaders and IT operations professionals aren't keeping pace with the latest technology and question their own readiness to embark on transformation initiatives. More than half, 52 percent, worry that their technology skills will soon become irrelevant, and 46 percent believe their current contributions aren't impacting the business.
Meanwhile, 28 percent of 1,500 global CIOs surveyed by AppDynamics' corporate parent Cisco currently allocate their technology budgets on optimizing their operational systems and issue remediation, according to its inaugural IT Operations Readiness Index, published a week earlier.
It's a noteworthy allocation. Even more striking is that two thirds of the survey's respondents indicated that they intend to increase the percentage of their budgets on IT operations transformation over the next year.
Naturally, Cisco is benefiting from that trend, as it reported in its first fiscal quarter 2019 earnings this week, that overall revenues of $13.1 billion were up 8 percent year-over-year, exceeding expectations of $12.9 billion.
While it may be too early to say that customers have already gone deep into Cisco's Network Intuitive with its SDN-based Application-Centric Infrastructure (ACI), it's an encouraging sign for the company and its competitors (see last month's IT Ops Times premium report, Defining a New Network Landscape).
Dell Technologies is equally bullish, as evidenced by this week's raised bid by the company to sweeten its offer to buy remaining shares in VMware's tracking stock to $23.9 billion from $21.7 billion. The deal was enough to remove opposition from activist shareholder Carl Icahn and will result in Dell Technologies returning to the public markets without having to go through an IPO.
Despite the increased plan in spending on IT operations optimization showcased in Cisco's report, only 14 percent have reached what the company describes as the "preemptive" stage, the highest of four levels identified by Cisco. Yet, within two years, respondents indicated that figure will jump to a third, or 33 percent.
At the other extreme, more than a quarter, or 26 percent, are at the lowest stage of IT operations optimization readiness. The Cisco report refers to that bottom ring as "reactive," where IT operations teams deal with events only after they occur. In two years, only 7 percent will still be stuck in that reactive mode, according to the survey.
"This not only shows that there's room for improvement, but there is a very, very strong sense of urgency to get there," said Joseph Bradley, Cisco's global VP for IoT, blockchain, AI and incubation business. "That's a lot of ground to cover in two years."
Among those in the two middle stages, 22 percent currently have reached the predictive IT operations level, in that they can detect events and respond, and that figure will also rise to 33 percent in two years. A significant 38 percent are now at the second-lowest stage, proactive, where IT operations managers strive to improve their processes following an event but can't predict issues in advance. In two years, that figure that will drop to 27 percent.
Business transformation initiatives at the corporate level are putting these pressures on IT operations teams to accelerate their shift to optimization, whether by embracing DevOps or implementing automation and AI. By that measure, 40 percent said their organizations already make business decisions based on various forms of operational data. "In other words, IT operations data is providing context to the business," Bradley said.
Consequently, respondents to the survey indicated that as they jump on the fast track, among their key priorities will be to gather operational data from a broader cross-section of their infrastructure. In many cases, that will require updated infrastructure. Organizations also intend to invest more in analytics platforms and to apply deeper levels of infrastructure and process automation.
The findings make the case for bringing AI and machine learning into IT operations, said Zeus Kerravala, founder and principal analyst with ZK Research, who has conferred with Cisco about the IT Operations Index and last month. A separate survey by ZK Research last month found that more than a third, 35 percent, of unplanned network downtime is the result of human error, which was the largest cause. Other causes include telecommunications outages, software bugs, security breaches and hardware failures.
Kerravala said if IT wants to reduce the percentage of downtime caused by human errors, leaders need to understand how to assimilate and take advantage of all the sources of data that they have. "There's way too much data today for people to be able to connect the dots manually and I think that's where machines can do a better job," he said. "Right now, there's a lot of fear and rhetoric around how AI and machine learning will take away people's jobs. But this is a good example of how it won't. AI is actually a tool that can be used to improve IT processes. It's a great example of how IT can use AI and machine learning to not just automate things, but actually change the way it operates."