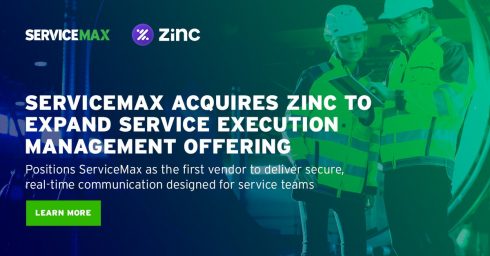 Service execution tool provider ServiceMax has announced that it has acquired Zinc, a company that provides solutions to help technicians get and share knowledge in real-time. According to ServiceMax, this acquisition will allow the company to expand its Service Execution Management platform to meet the needs of the service workforce.
ServiceMax believes that real-time communication is essential for service workers, and having all modes of communication available will help technicians get help instantly, solve complex tasks, and receive updates.
Zinc's platform provides users with 1:1 and group messaging, voice, video, content sharing, push-to-talk, top-down broadcasts, hotlines, and communication analytics, ServiceMax explained.
"No service execution strategy is complete without real-time communication," said Scott Berg, CEO of ServiceMax. "Zinc's purpose-built offering for service teams and success in adjacent markets, coupled with ServiceMax's market-leading Field Service Management and Asset Service Management, will allow us to meet the needs of service workers who keep the world running every day. We know our existing customers will value the Zinc solution to further increase outcomes, such as first-time fix rates, while new customers will benefit by starting their service transformation journey with connecting and enabling service workers through real-time communication. This acquisition builds upon our ongoing strategy to accelerate ServiceMax's growth initiatives and advance our vision for the Service Execution Management software market."
According to ServiceMax, Zinc will continue working with other field service management platforms and CRM systems from companies such as Oracle, Click, and Salesforce.