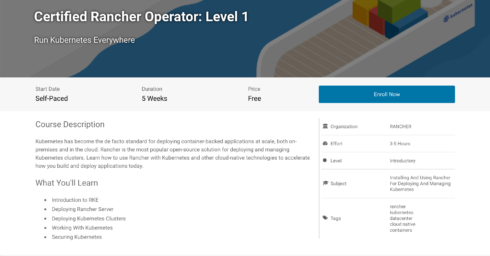 Rancher Labs has announced a new certification program, Rancher Academy. Rancher Academy will provide video introductions, theory work, demonstrations, hands-on labs, quizzes, and a final exam.
According to Rancher Labs, this certification will provide IT professionals with in-depth knowledge on deploying, using, and managing Kubernetes using Rancher. 
Grafana 7.0
Grafana has announced the latest version of its observability platform. Grafana 7.0 introduces a number of new features, such as a plugins platform, enhanced visualization options, support for Loki to detect trace IDs and link them to data pulled from Jaeger or Zipkin data sources, support for AWS CloudWatch Logs, and more. 
"With Grafana v7.0, our goal was to extend on the Grafana platform by making it easier and more consistent for existing users, and intuitive and simple for those not familiar with Grafana. This release includes significant enhancements to simplify the development of custom plugins and drastically increase the power, speed, and flexibility of visualization," Grafana wrote in a post. 
HashiCorp Consul 1.8
This is now in a public beta. HashiCorp Consul 1.8 will feature an Ingress Gateway, Terminating Gateway, and WAN Federation over Mesh Gateway. New features specific to Consul Enterprise include audit logging and single sign-on. 
"Consul 1.8 adds features that lower the barrier to entry for adopting a service mesh in heterogeneous environments. To achieve this, organizations can integrate any service into a service mesh without adding manual overhead and extend that mesh to both Kubernetes and non-Kubernetes environments in any region or cloud," HashiCorp wrote in a post.  
NFC Forum approves Tag NFC Data Exchange Format Exchange Protocol Specification
The NFC Forum is a standards and advocacy group for NFC technology. It announced that it approved and adopted the Tag NFC Data Exchange Format Exchange Protocol Specification (TNEP) and an updated version of the Connection Handover Technical Specification (CH 1.5).
According to the NFC Forum, TNEP allows for bidirectional data exchange between NFC-enabled phones and IoT devices. This means that phones would be able to read the state of an IoT device and then change the configuration of that device. Use cases for this include configuring audio systems, digital cameras, or smart meters.