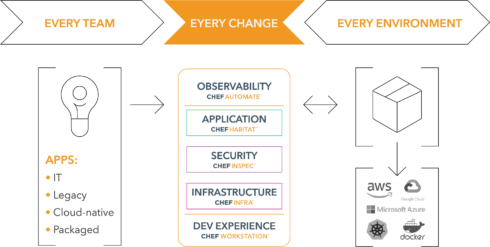 Progress has announced its first releases of Chef Enterprise Automation Stack (EAS) and Chef Infra Client since acquiring the company in October.
The latest version of EAS include Chef Infra Compliance Phase, which allows users to automatically perform compliance audits during Chef Infra Client runs; Chef Infras State Management Dashboards, which allow users to view and manage Chef Infra Server details from within Chef Automate; and a unified developer experience.
Chef Infra Client 17 includes new features like streamlines developer experiences, increased platform coverage and support, and improved cloud detection, security, and data aggregation capabilities. 
Jumio raises $150 in funding for identity verification service
The company will use these funds to strengthen its position in the digital identity market, and to devote more resources to automate its identity verification solutions, expand the Jumio KYX platform, and grow its suite of AML compliance services. 
This funding round was led by Great Hill Partners, and the venture capital firm's Nick Cayer and Matt Vettel will be joining Jumio's Board of Directors. 
"Jumio has established itself as the de facto global leader in online identity verification, fraud detection and compliance," Cayer said. "Organizations must digitally transform their onboarding, KYC and AML monitoring processes, which have become even more vital as the volume of online and mobile payments reaches historic highs. We're impressed with this team, the company's robust growth over the last year, its global coverage and the global market opportunity."
DataStax announces collaboration with IBM 
DataStax Enterprise with IBM will provide support for customers building and managing applications in hybrid and multi-cloud environments, DataStax explained. 
Key benefits of this new collaboration include elimination of data sprawl, a fast data layer to keep up with AI and machine learning priorities, extensibility to build a tool for future-ready deployments, and global sales and support from IBM.  
"Our customers want the flexibility and choice to use AI to gain insights from their data regardless of whether it's on public cloud, private cloud or on-premises," said Madhu Kochar, vice president of offering management for data and AI at IBM. "The launch of DataStax Enterprise with IBM is another step to help our customers modernize their applications and build a strong hybrid cloud foundation that will support their AI and data science efforts for years to come."