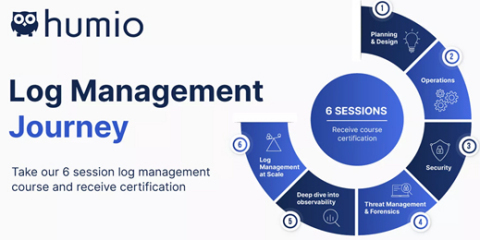 Log management company Humio has announced a new log management certification course. The course is divided into six one-hour sessions that will take place between March 4 and April 22. Topics covered will include log management planning and design, centralized log collection, security integration, threat management and forensics using log data, system observability, and cost reduction techniques.
Course instructors come from companies like Humio, IBM, Instana, Lunar, SOC Prime, and Vijilan Security. 
"Logging everything changes everything because high-fidelity data lets you understand real problems as they are unfolding," said Kresten Krab Thorup, CTO and co-founder of Humio. "We designed this course to take attendees well beyond the 'intro to logging' concepts to help them understand the true benefits of modern log management principles when implemented correctly across the enterprise."
Platform9 closes $12.5 million Series D round
This latest round brings the managed Kubernetes company's total funding to $37.5 million. This round was led by WRVI Capital, with participation from NGP Capital, Mubadala Ventures, Canvas Ventures, Menlo Ventures, and Redpoint Ventures. 
"Kubernetes has become the de-facto standard for building out hybrid and edge applications. However, the journey to cloud native is fraught with complexity: developers need to understand micro-services, platform engineers need to operationalize Kubernetes, and ongoing upkeep of cloud native applications is extremely difficult," said Sirish Raghuram, co-founder and CEO of Platform9. "We are excited to leverage the new capital to greatly simplify this challenge with our industry leading SaaS Managed Kubernetes product for edge, private, and hybrid cloud deployments."
Cloudtamer.io announces integration with AWS Control Tower
This integration will enable customers to set up and govern a multi-account AWS environment securely. It also offers cost management features to help customers streamline their spend management practices, customizable financial reporting, and out-of-the-box jumpstarts for compliance requirements like NIST and CIS. 
"We're very excited to offer this new integration with AWS Control Tower," said Joseph Spurrier, CTO and co-founder of cloudtamer.io. "Financial management is a core component of our cloud governance solution at cloudtamer.io, along with account management and continuous compliance. Our solution can help enterprises go beyond some of the native AWS Control Tower features by adding cost management capabilities."