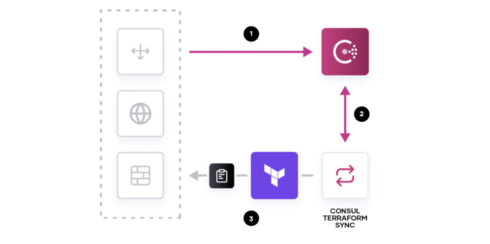 HashiCorp has announced the release of Consul-Terraform-Sync. The solution is part of the company's larger Network Infrastructure Automation solution. 
IT operators can define a set of tasks that Consul-Terraform-Sync then executes whenever a new service is registered or deregistered with Consul. Example tasks include applying firewall policies and updating load balancer member pools. 
The solution is launching with modules from A10 Networks, AVI Networks, AWS, Check Point, Cisco, F5, NS1, Palo Alto Networks, and VMware. 
Platform9 to offer managed Kubernetes with IPv6 support for 5G deployments
The solution will enable customers to optimize 5G delivery, centrally connect and manage AWS EKS clusters, and unify managem of virtual machines and containers. 
Key features include IPv6 support, API-driven IP address management, advanced pod scheduling, and more. 
"Our latest product release addresses the specific challenges faced by DevOps and platform teams with distributed Kubernetes deployments in 5G infrastructure roll-outs, multi-cluster management in public clouds, and siloed management of VMs and containers," said Madhura Maskasky, VP of product at Platform9. "We continue to deliver these new capabilities through our SaaS delivery model which removes operational burden by offloading the complex tasks of deployment, support, upgrades, monitoring, and troubleshooting across all clusters, no matter where they are deployed."
Ericsson Open Lab launches to innovate on network virtualization technologies
The goal of the new lab is to drive virtualized 5G Radio Access Networks (RAN) technologies, Ericsson explained. 
The new lab is located at Erisson's R&D location in Ottawa, Canada. It will be virtually accessible by customers. 
"Open technology underpins the modern mobile miracle, which connects more than eight billion devices today with one set of global operating standards," said Fredrik Jejdling, executive vice president and head of business area networks at Ericsson. "With Ericsson Open Lab, we invite our customers and partners to co-create and bring new cloud innovations to 5G. We have created this collaboration to develop architectures and common operating standards that complement existing 5G ready technology. This initiative will help to test the limits of 5G connectivity, working closely with operators and enterprise customers globally, as the industry continues to adopt more open architectures."