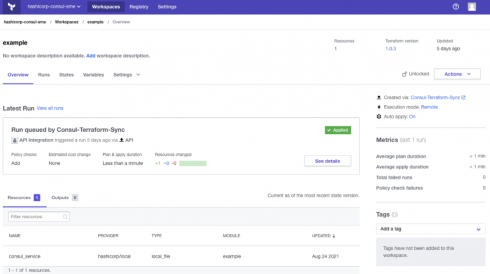 HashiCorp has announced the release of Consul-Terraform-Sync 0.3 for Terraform Enterprise. The latest release enables organizations to more dynamically manage their Day 2 networking, and ensure governance and security.
With the new integration with Terraform Enterprise, customers will now be able to scale resources, reduce risk, improve automation controls, simplify auditing, and apply compliance policies. Consul-Terraform-Sync 0.3 also introduces regex support for service triggers.
Platform9 joins Intel's Open Retail Initiative (ORI)
Intel's ORI is a community of organizations committed to driving digital transformation in retail through the use of technologies like open source, edge and IoT, and ISV ecosystem applications. 
Platform9's solution enables retailers to run a converged infrastructure stack in their stores. 
"Consumers have come to expect an integrated, omnichannel digital retail experience in stores, at the curbside and online," said Sirish Raghuram, CEO of Platform9. "Many of these applications must run inside stores, due to latency, bandwidth, or uptime considerations. Running this mix of traditional and modern apps across a store network with a distributed cloud-native architecture is uniquely supported by our technology. And equally important, with Platform9, retailers enjoy a managed solution with 24/7 support."
Rafay Systems raises $25 million in Series B funding
The company will use this funding to grow its engineering, sales, marketing, and customer success team. According to the company, this funding will also help accelerate its vision for its Kubernetes Operations Platform.
This funding round was led by ForgePoint Capital, with participation from Ridge Ventures, Costanoa Ventures, and Moment Ventures. 
"Every new industry starts with a number of point solutions solving different problems. The Kubernetes industry started the same way, but is now hitting an inflection point where enterprises are spending too much time cobbling together multiple tools and home-grown automation code for Kubernetes operations," said Haseeb Budhani, CEO of Rafay Systems. "Application modernization initiatives deserve a modern approach to Kubernetes operations. One that brings together the lifecycle management of both infrastructure and modern applications. This latest round of funding will help us bolster Rafay's leadership as the leader in the Kubernetes operations market."