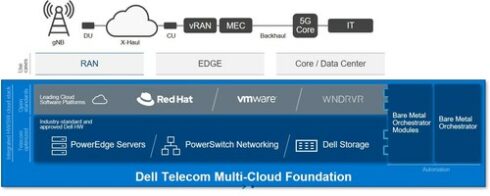 Dell Technologies has announced new solutions for communications providers that will help them with their transformation to cloud-native networks. 
Dell Telecom Multi-Cloud Foundation is a new network infrastructure solution for building and deploying cloud-native networks at lower cost. The company is also adding new Bare Metal Orchestrator Modules that can be used to manage the full cloud foundation stack.
Other new additions include:
Dell Open RAN Accelerator Card, which is a 5G Layer 1 processing card for vRAN and Open RAN solutions
Dell Validated Design for Services Edge 1.2, which integrates edge computing resources and wireless connectivity
Dell ProDeploy for NFVI, which can be used to build NFV infrastructure that is specific to a customer's network
Dell Open Telecom Ecosystem Lab Solution Platform, which enables service providers to connect their lab resources into Dell's lab to develop solutions more quickly
Styra announces Declarative Authorization Service 
The new solution, shortened to DAS, allows organizations to use existing identity and access management (IAM) solutions to move applications to the cloud. Authorization can be replicated across clouds, regions, availability zones, and clusters. 
"For IAM teams that previously had to pull together their own homegrown entitlements band aid, our technology is a game changer," said Tim Hinrichs, co-founder and chief technology officer of Styra. "Now, with Styra DAS for Cloud-Native Entitlements, IAM teams can finally move to cloud-native technologies and scale to the level their organizations require. We're the first and only organization to support this for enterprise environments."
Liquidware's ProfileUnity now supports Windows 11 and Windows Server 2022
This new support will provide users with a zero downtime migration to Windows 11. ProfileUnity allows Windows 11 profiles to co-exist with older versions of the operating system, which allows companies to follow a phased approach to migration.
In addition to Windows 11 and Windows Server 2022 support, the latest version of ProfileUnity also includes a Path Overrides feature for managing environments that lack a global name space in their Active Directory setup.