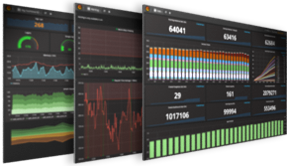 Grafana Labs just announced the completion of a Series A funding round of $24 million. The round was led by Lightspeed Venture Partners with participation from Lead Edge Capital.
Grafana Labs is known for its open-source projects Grafana and Loki. Grafana allows teams to query, visualize, and alert on metrics and logs. Loki is a log aggregation system inspired by Prometheus. It also contributes to projects like Prometheus, Cortex, and Graphite. 
The funding will be used for two purposes, to further invest in the open-source community and to create an open and composable observability platform centered around Grafana, Raj Dutt, co-founder and CEO of Grafana Labs, explained. Prior to this funding round, the company had been running break-even and hadn't felt the need to seek out funding, but this new money will allow them to accelerate their goals, Dutt said.
The platform is a pushback against other vendors who push for a single pane of glass solution that promises to break down silos across teams and applications. What's actually going on in the industry is that companies have dozens of systems, disparate databases, and complex workflows, and it keeps getting worse, Dutt explained.
"We just think that that's kind of getting obvious and disingenuous and so our approach where our platform is open and composable and works with your data wherever it is, we think that's a more honest and appealing approach," said Dutt. 
The platform will provide users with the flexibility to choose their preferred technology and build an observability platform that suits their needs. 
Along with the funding, the company also announced some new executive appointments. Douglas Hanna will be the new chief operating officer, Dave Kranowitz will be vice president of global sales, and Ryan McKinley will be vice president of applications.
"Grafana Labs has come a long way in five years, and continues to break traditional data silos," said Dutts. "We're proud to have built a sustainable business and while we didn't need to fundraise, we are excited to be able to further accelerate our investments in the global open source community and build the world's first, truly open and composable observability platform. We're also thrilled to have Doug, Dave and Ryan on board to help realize our vision of a successful open source business."