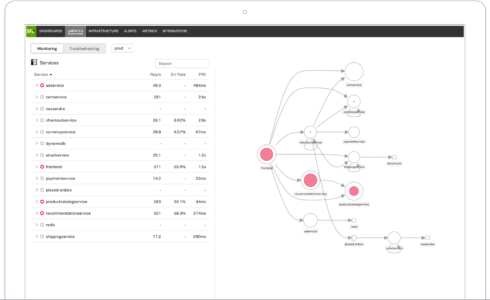 Monitoring company Splunk has announced the latest release of SignalFx Microservices APM, which is an APM solution that provides observability into cloud-native environments. 
According to Splunk, this latest release combines features from both SignalFx and Omniton, both of which were acquired by Splunk within the last year. Such features include NoSample full-fidelity tracing, open standards based instrumentation, and AI-driven troubleshooting. 
Splunk explained that SignalFx Microservices APM will be helpful to companies as they move to the cloud and microservice, and will allow DevOps teams to innovate faster, elevate customer experience, and future-proof applications.

The company also explained that in addition to the benefits from microservices, many companies rely on open standards to build, connect, and observe their infrastructure. This solution supports open source and open standards-based instrumentation, allowing companies to be more flexible. 
"As organizations make the shift from on-premises to hybrid and cloud-native environments, Splunk is the only company that can support any organization's observability needs across all stages of their digital transformation," said Rick Fitz, senior vice president and general manager, IT Markets, Splunk. "In less than one year since acquiring SignalFx and Omnition, Splunk is already delivering an integrated solution that empowers organizations to leverage all their data to better manage complexity and create meaningful business outcomes in these cloud-native environments."