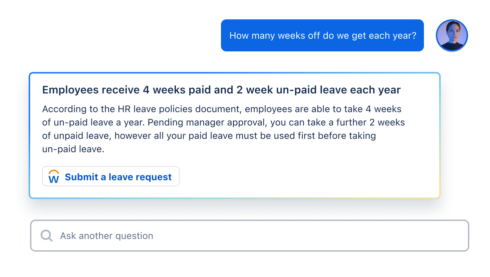 Virtual agent and expanded AI capabilities for IT service management highlight the updates in today's release of Atlassian's Jira Service Management platform. The new capabilities are designed to improve support to meet the speed at which IT works today.
According to Edwin Wong, head of IT solutions at Atlassian, "The service management market is ripe for disruption … Emerging technologies like AI-powered virtual agents are about to change the game by drastically cutting the number of tickets teams have to manually resolve or easing the cognitive load for agents who are handling an issue."
Among the capabilities of the virtual agents is the use of generative AI to generate answers from such data sources as articles in the knowledge base, guides for onboarding new employees, and more, according to the company's announcement. WIth AI, the agents can understand intent, sentiment  and context to customize interactions for users, and the learn from those interactions by drawing from a built-in Natural Language Processing engine. And, the company wrote in the announcement, "During setup, support teams can easily configure the virtual agent experiences to match the way they deliver service, without writing a single line of code."
Wong indicated the opportunity for AI for the service management market is now. "The nature of service management is completing often repeated requests. This provides the perfect laboratory for AI experimentation and implementation," he said.
Other AI-powered capabilities in Jira Service Management highlighted in the announcement include the ability to:
Intelligently assign or recommend the right agent to tackle a request
Automatically categorize and prioritize incidents and changes
Group similar incidents to escalate to a major incident
Surface similar past incidents to help with resolution
Identify potential change conflicts across services, teams, and schedules
Further, Atlassian Intelligence – the company's "virtual teammate" – will serve as the backbone to what Atlassian called its unified help experience, which is designed to route requests to the proper tools and teams to resolve issues more quickly. In the announcement, Atlassian explained: "This 'intelligent front door' will have the smarts to gather requests from an employee's preferred channel, including web portals, email, chat, and even embedded experiences within other products and tools. It will use Atlassian Intelligence to evaluate the context and intent of the request to provide concise answers, and even suggest the right team or tool for resolution, which might even be a third-party solution."
Atlassian acquires AirTrack
The acquisition of IT data quality management technology will be combined with Jira Service Management to help organizations account for and track their critical assets, which will minimize operational risks, costs and attack surfaces, according to Atlassian.
In the announcement, Atlassian cited Gartner research that said, "Through 2024, 99% of organizations using CMDB [configuration management database] tooling that do not confront configuration item data quality gaps will experience visible business disruptions." 
The company said AirTrack, combined with Jira Service Management, will help enterprises manage all critical assets with:
30+ out-of-the-box data connectors. IT Operations teams will be able to aggregate and cleanse data from multiple asset discovery tools, databases, and component parts, across their organizations' entire IT landscape. 
Rapid data reconciliation. The combined solution will quickly surface inaccuracies across different systems of record, pinpoint potential issues, and fast-track remediation. 
An accurate picture of all service dependencies across Dev and IT. AirTrack, together with Jira Service Management, and Compass, will provide teams greater visibility into both the infrastructure that supports critical services and relevant information from development tools about the engineering components these critical business applications and services depend on – for smarter, safer changes and faster responses to incidents.
Data beyond IT.  The AirTrack acquisition builds on Atlassian's ability to help enterprises rethink asset management beyond traditional IT use cases, so they can address a wider range of challenges around security and compliance, inventory and billing, forecasting and planning, and more.