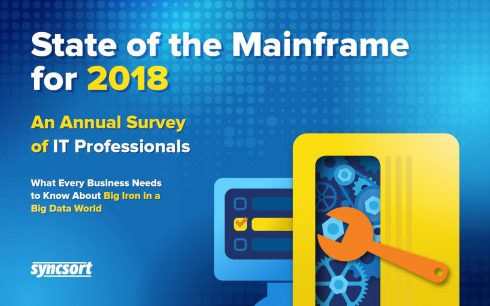 Syncsort has found five main trends that it says reflects the role mainframe data plays in today's business and operational intelligence initiatives. The findings come from the company's State of the Mainframe report, which indicated an increased focus on traditional infrastructure optimization as a way to control costs and help fund strategic organizational projects.
The report was based off of more than 200 respondents from IT disciplines including executives, architects, system programmers, application analysts, database administrators, operations managers and security professionals.
According to the report, the five trends are:
Mainframe infrastructure optimization enables new strategic projects. Fifty seven percent of respondents said that mainframes will remain the main hub for business-critical applications; 43 percent will be running revenue-generating services on mainframes. In addition, 51 percent plan to optimize their mainframe resources in order to cut IT costs.
Cost reduction, security, and compliance continue to be top challenges. To save money, 56 percent of respondents will invest in zIIP engines and 44 percent will try to increase their DB2 performance.
Integrating mainframe data with modern analytics tools is a top priority. Forty four percent of respondents saw this as a priority, with 23 percent already using Big Data tools such as Splunk and Hadoop to monitor mainframe and other data in a single dashboard.
System Management Facilities (SMF) and log files will play an increased role in addressing security and compliance mandates.
Mainframe data analysis and movement across platforms is a priority. Fifty three percent of organizations reported that they feel they don't have visibility into their data movement.
Other findings included 32 percent are increasing spending for new mainframe apps compared to 24 from last year, and another 32 percent are investing in mainframe data analytics.
"It's clear that traditional data environments, including mainframe and IBM i, remain central to large enterprises' business," said David Hodgson, chief product officer for Syncsort. "Our annual State of the Mainframe research confirms what we are seeing across our more than 7,000 customers worldwide: while many are turning to Big Data analytics platforms to meet compliance and security requirements, they continue to successfully use the mainframe and IBM i to run revenue-generating services, requiring them to optimize their data infrastructure to improve performance and control costs."