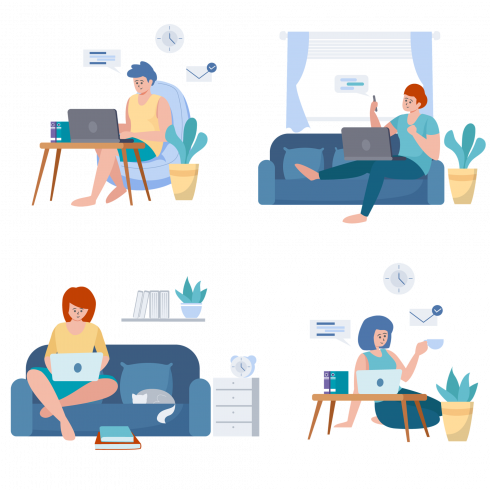 Many people are excited about the new era of hybrid work, but a number of IT professionals have their concerns. While remote work has its benefits, workload complexity isn't one of them; only 32% of IT professionals believe their jobs will get easier in a hybrid model.
This is according to PagerDuty's recently released The Future of the Workplace survey, which surveyed over 800 IT and development professionals.  
"Hybrid working will deliver benefits to all employees. A better work-life balance and more flexibility at work are welcome; however, organizations should also take heed of the warning signs revealed in this research. ITOps and DevOps functions must adapt to make hybrid working successful, or it could mean the opposite of what's intended and see burned out teams working longer hours to support a greater workload," PagerDuty wrote in the report.  
The biggest concern around hybrid work is that it will be harder to collaborate, with 23% of respondents feeling that way. Other concerns include increased workloads (22%), that it will be harder to get a raise or promotion (21%), degraded office culture (21%), productivity (20%), security (19%), challenges innovating (16%), and increased risk of burnout (16%). 
In order to alleviate those concerns, IT workers believe their department needs to invest in flexible top-down, bottom-up, and horizontal communication; create a support system; provide more visibility and access to leaders; offer greater transparency; provide a shared sense of purpose; establish protocols for conflicts and disagreements; and allow for more accountability. 
"The impact on mental health of new modes of working should also be a key consideration for organizations. Respondents are looking for more openness around mental health issues as well as more material support," PagerDuty wrote. 
Respondents anticipate that IT budgets of hybrid organizations will be split between spending on IT infrastructure at 41%, 16% on security, 11% on collaboration tools, 11% on video conferencing solutions, and 9% on cloud enablement. 
Hiring will also be different in hybrid environments. Forty percent of respondents expect their companies will expand their candidate searches to new geographic locations. Other predictions are that it will remove some bargaining power from employees (30%), will help attract better candidates (32%), create more opportunities for developers (31%), and increase competition (29%).