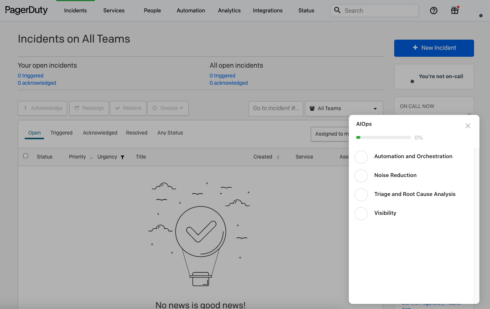 PagerDuty has announced that PagerDuty AIOps is now generally available, enabling its customers to have access to new automation capabilities that can be applied to their IT departments. 
The new offering includes capabilities aimed at reducing the amount of time that IT teams are spending on managing multiple vendors and manual processes. These include things like event correlation, noise compression, and triage context functionality. 
Noise reduction capabilities group alerts across different services and customers can apply rules and machine learning to surface only relevant incidents.
There is also a visibility console that provides users with a single source of truth for managing incidents. 
The platform includes self-healing capabilities as well via a decision engine that can control routing of and triggering of self-healing actions. 
It also features over 700 integrations through PagerDuty Operations Cloud, according to the company. 
PagerDuty hopes that this offering will enable teams to move from reactive to proactive monitoring so that they can address potential issues before they become real ones.
"PagerDuty AIOps is a game-changing solution, delivering fast time-to-value for our early access customers and eliminating the need for difficult- and expensive-to-implement event management tools and AIOps offerings of the previous generation," said Jennifer Tejada, CEO and chairperson at PagerDuty. "PagerDuty AIOps is deeply integrated into our Operations Cloud platform, including our 700-strong integrations across our ecosystem. Our customers can reduce their cost of operations, mitigate business risk, and improve productivity, allowing them to focus their time on growth and innovation."