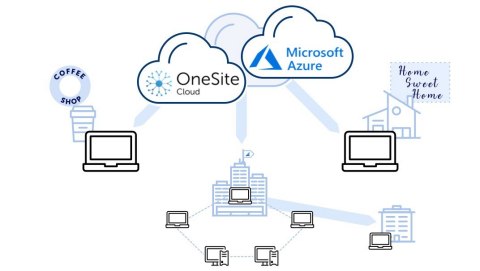 Adaptiva has announced the release of OneSite Cloud. Adaptiva OneSite Cloud allows end users to receive software updates remotely without overwhelming corporate VPNs or WAN/SD-WAN links. 
Features include software delivery everywhere, internet P2P content sharing capabilities, VPN offload, WAN offload, and BYOD support. 
Synopsys introduces USB4 IP solution
The DesignWare USB4 IP solution includes controllers, routers, PHYs, and verification IP. 
It is able to operate at twice the maximum data rate of USB 3.2, and offers backwards compatibility with USB 3.x and USB 2.0. It also supports a number of high-speed interface protocols, including USB4, DisplayPort 1.4a TX, PCI Express, and Thunderbolt 3.
"Synopsys has been at the forefront of providing high-quality, complete IP solutions through every generation of widely used interface standards such as USB," said John Koeter, senior vice president of marketing and strategy for IP at Synopsys. "By providing a complete USB4 IP solution, backed by billions of SoCs shipped with DesignWare USB IP and our long track record of technical expertise, Synopsys enables designers to accelerate the integration of high-performance USB4 functionality into their SoCs with significantly less risk."
Renesas introduces new I3C bus extension products
The four new solutions include IMX3102 2:1 bus multiplexer, IMX3112 1:2 bus expander, and IXP3114 and IXP3104 1:4 general-purpose IO expanders. 
"The complexity of intelligent platform management in modern data center equipment has finally outstripped the capabilities of decades-old interfaces like I2C and SMBus," said Rami Sethi, vice president of data center business division at Renesas. "We are excited to offer an entire lineup of I3C bus extension devices for large-scale, high-speed control plane designs that enable sophisticated capabilities for environmental control, advanced telemetry, security, and fault recovery."
NetApp to acquire Spot
NetApp has announced its plans to acquire cloud compute cost manager Spot. NetApp hopes that this acquisition will help customers save up to 90% in compute and storage cloud costs. These costs typically account for up 60 70% of cloud spending, NetApp explained.
"In today's public clouds, speed is the new scale. However, waste in the public clouds driven by idle resources and overprovisioned resources is a significant and a growing customer problem slowing down more public cloud adoption," said Anthony Lye, senior vice president and general manager, Public Cloud Services, NetApp. "The combination of NetApp's leading shared storage platform for block, file and object and Spot's compute platform will deliver a leading solution for the continuous optimization of cost for all workloads, both cloud native and legacy. Optimized customers are happy customers and happy customers deploy more to the public clouds."