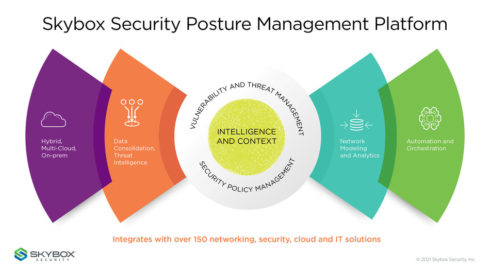 Skybox has announced updates to its Security Posture Management Platform. The platform enables IT teams to visualize and analyze their hybrid and multi-cloud networks to get a better sense of their attack surfaces.
New capabilities include advanced analytics, optimized attack simulation, and increased dashboard customization. 
"Digital transformation demands a new approach to security posture management," said Haggai Polak, chief product officer of Skybox Security. "Through automating data collection, correlation and analysis, security and IT teams can together leverage a multidimensional dynamic network model to understand risk levels, simulate attacks, and remediate vulnerabilities where it's needed most."
Synopsys to acquire MorethanIP
MorethanIP is an Ethernet Digital Controller IP provider. By acquiring the company, Synopsys hopes to expand its DesignWare Ethernet Controller IP portfolio. MorethanIP's R&D team will also join Synopsys. 
"Hyperscale cloud data centers continue to evolve due to tremendous Internet traffic growth,  driving the need for high-speed interfaces to optimize data processing, networking, and storage in the cloud," said Joachim Kunkel, general manager of the Solutions Group at Synopsys. "The acquisition of MorethanIP enables us to build on our leading Ethernet IP portfolio and provide a complete controller and PHY Ethernet IP solution that addresses the performance and latency requirements of 200G/400G/800G cloud computing designs, while allowing customers to comprehensively meet their needs for high-quality IP solutions from a single, trusted supplier."
Red Hat and NEC collaborate on Kubernetes-based 5G adoption
This partnership will allow customers to utilize 5G capabilities across a wide range of use cases, such as 5G core, 5G radio access networks, edge computing, artificial intelligence, and machine learning. 
Their new cloud-native network function (CNF) infrastructure will enable service providers to reduce management and operational costs. 
"As 5G becomes central to the competitiveness and viability of service providers, it's critical that these organizations deploy on a foundation that supports a consistent, reliable and cloud-native strategy," said Darrell Jordan Smith, senior vice president of Industries and Global Accounts at Red Hat. "We're pleased to work with NEC to provide this new infrastructure built on Red Hat OpenShift. NEC understands the power of open principles and through this expanded collaboration, service providers will be able to maximize the benefits of 5G use cases in the telecommunications sector and beyond."