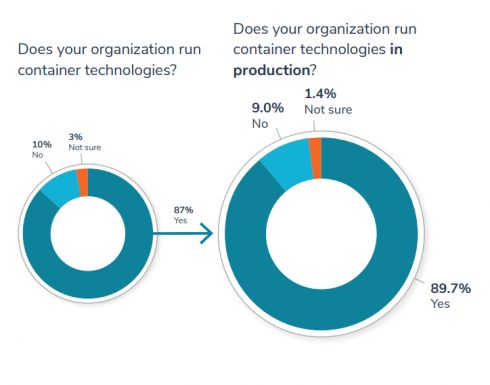 While container adoption continues to accelerate, companies continue to struggle with things like security and data management.
Portworx's annual Container Adoption Survey showed that 87 percent of respondents were running containers, which is up from just 55 percent in 2017 and from 80 percent in 2018. Of those, 90 percent were running containers in production.
Persistent storage was the top challenge organizations faced in 2017, but it has since fallen to number eight. "This indicates that as the cloud native storage and container markets progress, higher level challenges (data management) replace lower level challenges (persistent storage)," Portworx wrote in the report.
RELATED CONTENT:
Container Security Guide
Report: Only half of organizations are currently deploying Kubernetes in production
Report: The 10 most popular Docker images contain at least 30 vulnerabilities each
The biggest challenge organizations face is security, followed by data management and multi-cloud support. The top strategies for securing containers include data encryption (63.9 percent), runtime monitoring (49.4 percent), scanning for vulnerabilities in registries (49.2 percent), scanning for vulnerabilities in CI/CD (48.7 percent), and runtime protection (47.6 percent).
According to the findings, the most common reason organizations were deploying containers was to increase developer speed and efficiency, with 37 percent of respondents claiming this to be their reason. Other reasons include increasing agility (20 percent), avoiding cloud vendor lock-in (19 percent), and saving on infrastructure costs (14 percent).
Finally, the findings reveal that Amazon is the most trusted company to help run Kubernetes, by a significant amount. Thirty-four percent of companies trusted Amazon, while 17.2 percent trust Microsoft, 17 percent trust Google, and 14 percent trust IBM.
Portworx surveyed 501 IT professionals to gather these results. Respondents were asked screener questions that ensured that they were both part of the IT department and were familiar with their company's IT strategies.