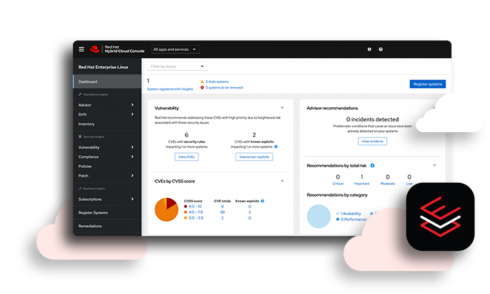 Red Hat has announced the release of Red Hat Enterprise Linux (RHEL) 9.3, with Red Hat Enterprise Linux 8.9 coming in the next few weeks. 
These releases include updates designed to support containers, including an expansion of the Podman integration already present in RHEL. Podman is a tool for deploying, running, building, and sharing Linux containers. With the latest update, when a health check on a Podman container fails, admins will now be able to specify an action that can automatically take place for remediation. 
The RHEL system role for Podman also now supports Quadlet, which is a tool that allows admins to run Podman containers with systemd, allowing it to act as a localized container management system.
The company also added new features to help speed up deployment and migration tasks. It updated the on-premises version of the image builder service to support AWS hybrid-boot configurations. This allows IT teams to take advantage of UEFI Secure Boot, Red Hat explained. 
The convert2rhel migration tool now includes support for more RHEL-derived distributions, including Alma Linux 8 and Rocky Linux 8. It also now includes a pre-conversion analysis tool that lets admins know if it's even possible to convert their system before they start the process. 
The latest releases also include several updates to Red Hat Insights, which is an observability tool that analyzes platforms and applications in the Red Hat suite, providing risk prediction, recommended actions, and tracking of costs. New features include the ability to group system access by user role, a comprehensive list of CVEs and their related errata, the ability to group and edit compliance rules from the Insights console, and image builder support for iso, ova, qcow2, and vmdk images.
There is also an improvement to storage, with Red Hat's new support for Stratis in RHEL 9.3. Stratis is a Linux storage system that integrates different Linux capabilities into a user-friendly interface. These include dynamic scaling, robust encryption, optimized resource allocation, thin provisioning, snapshots, and caching. It can be managed entirely from the RHEL web console.
And finally, there were a number of performance optimization features added. Performance co-pilot, which is a suite of tools for monitoring and analyzing system-level performance metrics, was updated with additional metrics that help with performance monitoring of hardware, including interrupts, non-volatile storage, and external memory. 
"Containerized and cloud-native applications are the future of computing and the job of the operating system is to bridge that future with today's demands," said Gunnar Hellekson, vice president and general manager of Red Hat Enterprise Linux for Red Hat. "The latest versions of Red Hat Enterprise Linux continue to support current IT needs while creating a smoother pathway to future innovations without requiring a wholesale change in skills, tools or workflows, thanks to the new Stratis storage system, expanded Podman capabilities and enhancements to the Red Hat Enterprise Linux web console."