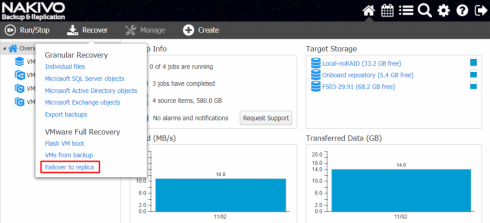 NAKIVO, Inc., a fast-growing virtualization and cloud backup software company, announced today the release of NAKIVO Backup & Replication v7.4. The newest version adds 11 new features designed to simplify disaster recovery and increase convenience.
Automated VM Failover: NAKIVO Backup & Replication v7.4 can help restore business activities in case of disaster without unnecessary delays. Automated VM Failover is performed by first replicating VMs to the DR location and then running a single failover job. As a result, the workloads are transferred to the DR location near-instantly, minimizing downtime. The process is fully automated with the help of network mapping and re-IP rules, which eliminate the need for manual reconfiguration of replicas.
File Recovery to Source (Beta): NAKIVO Backup & Replication v7.4 allows for recovering accidentally deleted or corrupted files directly to their source VMs or a different location. The recovery is quick and performed from deduplicated VM backups, without recovering the entire VM first.
Enhanced AWS EC2 Instance Backup: NAKIVO Backup & Replication can be used to protect AWS EC2 instances and store the backups onsite or in the cloud. Starting from v7.4, the number of recovery points per EC2 instance is increased to 1,000, bringing greater reliability and more recovery options.
Bandwidth Throttling: By default, NAKIVO Backup & Replication uses the available bandwidth to run jobs at the highest speed possible. However, during business hours, network administrators may want to limit the bandwidth used by data protection processes. NAKIVO Backup & Replication v7.4 allows such limits to be set on a per-job basis, ensuring enough bandwidth is available for other business applications.
Self-Backup: If something happens to the VM or physical server hosting the VM backup software, a new instance of NAKIVO Backup & Replication can be installed in under 1 minute. However, manually reconfiguring all of the backup settings might be time-consuming. To simplify the process, NAKIVO Backup & Replication v7.4 automatically backs up the entire scope of settings made in the product's web interface and saves such self-backups in available backup repositories. Once a new instance is installed, NAKIVO Backup & Replication can import all the previously established settings from the backup repository, including jobs, inventory, schedules, and preferences.
Global Search: Trying to manually find a VM, replica, or job in a large virtual infrastructure can be a daunting task. NAKIVO Backup & Replication v7.4 introduces a convenient Global Search feature that facilitates finding any item, such as a job, a repository, or a transporter. There is also the option to instantly perform individual or bulk actions on such items directly from the search results page.
Flash VM Boot for Hyper-V: Flash VM Boot can near-instantly boot virtual machines directly from deduplicated and compressed VM backups. Such VMs can then be used for sandbox testing or other purposes. NAKIVO Backup & Replication v7.4 extends support of Flash VM Boot to Hyper-V VMs.
Screenshot Verification for Hyper-V: Having VM backups or replicas does not guarantee their recoverability. To ensure VMs can be recovered, NAKIVO Backup & Replication includes the Screenshot Verification feature. After each backup or replication job, the product can automatically test-recover the VM and take a screenshot of the operating system. Such OS screenshot is then attached to a report and sent via email. Starting with NAKIVO Backup & Replication v7.4, the Screenshot Verification feature is available for Hyper-V as well as VMware VMs.
Log Truncation for Microsoft SQL Server 2017: NAKIVO Backup & Replication v7.4 was designed to save space not only in the backup repository; the product can also truncate Microsoft SQL Server transaction logs on the source VM. These logs are truncated automatically after each successful VM backup or replication job, preventing them from taking all available disk space and causing a server crash.
Instant Object Recovery for Microsoft SQL Server 2017: NAKIVO Backup & Replication v7.4 allows instant recovery of Microsoft SQL Server objects, such as tables and databases. The granular recovery is performed from deduplicated backups, without requiring the full VM to be recovered first, which saves a considerable amount of time.
Live Chat with Technical Support: The convenient web interface of NAKIVO Backup & Replication v7.4 now includes a built-in live chat with NAKIVO's Technical Support team. Customers can get answers to their questions and receive assistance without leaving the product's interface.
"We always take our customers' feedback into account," said Bruce Talley, CEO of NAKIVO Inc. "That's why NAKIVO Backup & Replication v7.4 introduces cutting-edge features that we know our customers want to protect their virtual environments even more efficiently. We also work to make the product more user-friendly and convenient."
A fully-functional free trial of NAKIVO Backup & Replication v7.4 can be downloaded at www.nakivo.com.