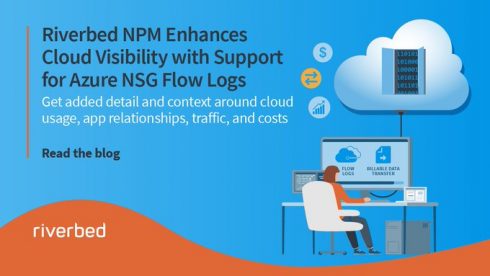 Riverbed has announced new capabilities in its network monitoring portfolio Riverbed Network Performance Management (NPM). The updates enable customers to gain greater visibility into their hybrid and multi-cloud network environments.
Riverbed NetProfiler, which monitors network flow to proactively identify and allow for quick troubleshooting of issues, now supports Azure NSG flow logs. These logs contain important data such as applications, hosts, and conversations, sorted by VNETs, regions, and availability zones. It also maps application relationships and offers cost analysis reporting.
This release also improves AWS VPC flow log support. The previous version of Riverbed NPM offered this support, but it required customers to manually configure and maintain AWS hostgroups in order to run visibility reports. The latest version automates hostgroups, resulting in a less error-prone process.
Riverbed NetProfiler also introduces new UI updates and an improved search experience. The updated home screen offers easier access to information that will help customers understand how the network is performing, what issues need attention, and how issues are trending. 
Security updates include support for TLS 1.3. New systems now come with TLS 1.2 installed and 2048-bit cipher certificates, at a minimum. 
"Today's release of Riverbed NetProfiler is critical to NetOps and SecOps and is focused on gaining more in-depth traffic insights from Azure and AWS flow logs to proactively identify and quickly remediate performance and security issues while gaining cost and latency efficiencies. It also relieves the loss of visibility in migrating applications to Azure or AWS Cloud," said David Winikoff, vice president of product management at Riverbed. "Additionally, the new home page and search features make it easier for helpdesk and support users to solve problems, while still serving Riverbed's traditional power users. Riverbed is delivering end-to-end visibility—across users, networks and applications—enabling organizations to modernize and secure their networks, accelerate cloud and SaaS migrations, improve business productivity and advance hybrid and work-from-anywhere environments."