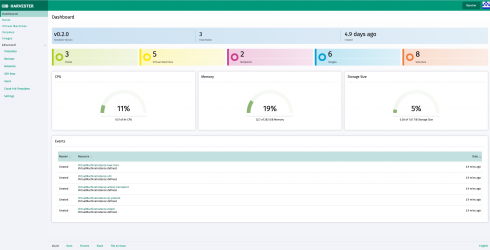 Harvester is an open-source hyperconverged infrastructure (HCI) solution developed by SUSE. The open-source solution provider for enterprise servers and cloud announced the beta release of the project at its SUSECON Digital 2021 conference earlier this week.
The solution is built on Kubernetes and designed to deliver a new generation of HCI through virtual manage and container management as well as cloud workload migration and hybrid cloud management for Amazon, Azure and Google Cloud. According to the company, it is meant to be an open-source alternative to vSphere and Nutanix. 
"Designed for users looking for a cloud-native HCI solution, Harvester is a flexible and affordable offering capable of putting VM workloads on the edge, close to your IoT, and integrated into your cloud infrastructure," the project's website states. 
It works well with on-prem HCI, edge HCI, hybrid cloud, and containers and VMs in the same environment, the company explained. Additionally, it aims to provide mature open-source software components to build virtualization, lower the total cost of ownership, and provide future-proof infrastructure.
According to its GitHub page, key features include: 
"VM lifecycle management including SSH-Key injection, Cloud-init and, graphic and serial port console
VM live migration support
Supporting VM backup and restore
Distributed block storage
Multiple NICs in the VM connecting to the management network or VLANs
Virtual Machine and cloud-init templates
Built-in Rancher integration and the Harvester node driver
PXE/iPXE boot support"