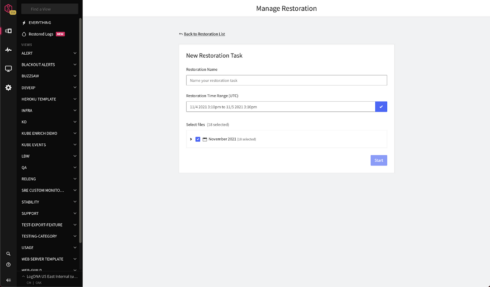 LogDNA has announced Log Data Restoration, a new capability that will allow users to pull historical logs out of archived storage and into LogDNA for analysis. According to LogDNA, it can be costly to keep logs in hot storage, which is why many get archived. 
"True observability requires that data consumers can find insights they need — quickly and without barriers to access. However, the costs associated with keeping enriched data readily available present an impossible choice for teams that need to balance their budget with the growing need for those insights," said Tucker Callaway, CEO of LogDNA. "Log Data Restoration effectively lowers the hurdle of analyzing historical log data for faster decision making."
Cloudian adds new management and security features to observability solution
The new features to the HyperIQ solution include cross-region replication monitoring, federated management, ransomware protection, single sign-on, customer health checks, and more. 
Cloudian believes these new features will help address the challenge of managing geographically distributed storage infrastructures. 
More information on the latest features are available here. 
FADU Technology announces new SSDs and controller designs
FADU Technology has revealed it is developing the Gen 5 family of its SSD and SSD Controller solutions. This includes the FADU FC5161 SSD Controller and the FADU Echo SSDs in E1.S, U.2, E3, and E1.L form factors. 
"At every generation, anyone can meet performance – but without an efficient architecture, it's impossible to meet performance, at low power, with sustained, high QoS," said Jihyo Lee, co-founder and CEO of FADU. "FADU's unique architecture has proven its ability to meet all three opposing design criteria again as we prepare to support the industry's migration to PCIe Gen 5."