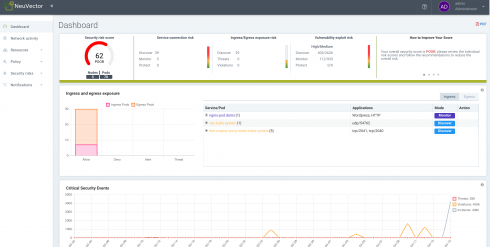 NeuVector has announced new capabilities that will enable security teams to assess how secure containers are.
In its new dashboard, NeuVector will provide security risk scores that will summarize risk factors and offer recommendations on how to improve the score.
The score will be comprised of the risk of east-west attacks, ingress and egress connections, and damaging vulnerability exploits, the company explained.
The service connection risk score will show how likely it is that attackers will gain access to unsegmented containers. The ingress/egress risk scores shows the likelihood of external attacks to steal data or connect to command and control servers.
"The NeuVector container security solution spans the entire pipeline – from build to ship to run," said Gary Duan, CTO of NeuVector. "Because of this, we are able to present an overall analysis of the risk of attack for containers during run-time. But not only can we help assess and reduce risk, we can actually take automated actions such as blocking network attacks, quarantining suspicious containers, and capturing container and network forensics."
The solution also integrates with Red Hat OpenShift, providing risk assessments specific to OpenShift projects. The integration enables users to review risk scores for containers within those projects and take action to lower scores, the company explained.