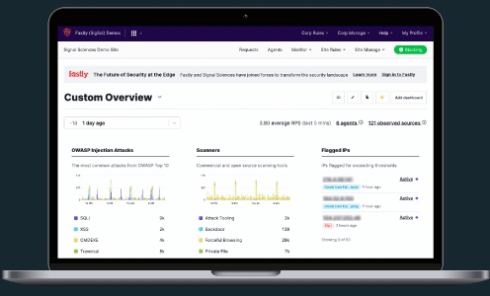 Edge network provider Fastly has announced the availability of an edge deployment option for its Next-Gen WAF solution, which is powered by Signal Sciences, the security company that Fastly acquired in October 2020.
According to Fastly, this firewall provides protection for applications and APIs no matter where they are located. It can be deployed across a range of architectures, including containers, on-prem, the cloud, and the edge, from a single solution. 
Key benefits include trustworthy blocking, rapid deployment, near-zero tuning, flexibility of where it is deployed, a single platform for management, and real-time visibility. 
Fastly noted that this single-solution offering is beneficial because when companies need to combine several separate WAF solutions to meet their needs, it can result in high resource usage, added complexity, and tool sprawl.  
"Support for variability in deployment options is important to our customers, and we've now launched it in a way that supports massive scale at the edge. New apps, APIs, and architectures are being built with immense velocity to meet the expectations of a modern digital experience. To meet these demands, enterprises need a unified WAF solution that protects not just the apps they have today — on-premises and in the cloud — but also the ones built at the edge in the future," said Joshua Bixby, CEO of Fastly.