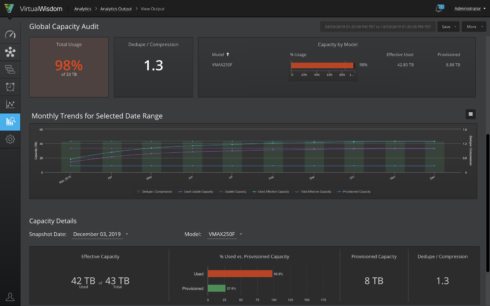 Virtana has announced the latest version of its hybrid IT infrastructure management and AIOps platform, VirtualWisdom 6.3. This is the company's first release since rebranding from Virtual Instruments in October.
VirtualWisdom 6.3 features the new Capacity Auditor, which is a global storage array analytic capability. It provides organizations with a broad view of storage usage and trends across storage arrays, applications, locations, physical storage assets, and capacity.
It also features dynamic entity insights into critical relationships between infrastructure elements, an intuitive dashboard, and server, storage, and network reports.
VirtualWisdom users will also now be able to share collective insights, dashboards and reports.
Another new feature is the addition of hybrid, real-time application views. These make it easy to visualize hybrid applications that span multiple technologies, the company explained.
Finally, VirtualWisdom 6.3 includes support for Oracle's Solaris, Red Hat KVM, and Pure Storage solutions.
"Digitally transformative applications are data-driven and demand ever-increasing storage capacity, making planning for these needs critical. Point solutions to managing data sets across multiple vendor storage environments result in highly fragmented, manual and wasteful practices and resources – and can put entire applications at risk," said Tim Van Ash, SVP of Products at Virtana. "With application aware, predictive insight into the underlying digital infrastructure, VirtualWisdom offers the industry's first and only global infrastructure capacity auditor and forecaster that can providing real-time visibility into mission-critical digital workload infrastructure."