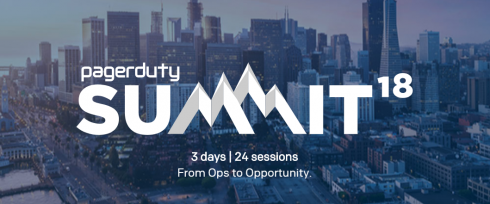 PagerDuty announced two new products and an expansion of its platform today at the PagerDuty Summit 2018 in San Francisco.
The company announced PagerDuty Visibility and PagerDuty Analytics to help customers enhance their digital operations while leveraging PagerDuty's extensive data set. PagerDuty Visibility provides a real-time view into operational health, while PagerDuty Analytics offers insights from the combination of machine and human response data.
The two products take advantage of PagerDuty's data set that has been collected over the last nine years. The data will provide customers with insights that will help them understand the actual customer and business impact of digital incident, according to the company.
"Every business is engaged in some form of digital transformation, with the focus on delivering delightful digital brand experiences," said Rachel Obstler, vice president of product at PagerDuty. "Leaders need new proactive solutions that connect operational performance to customer and business impact. PagerDuty Visibility and PagerDuty Analytics provide actionable information so business and technical teams can deliver best-in-class customer experiences."
The company also announced an expansion of its platform to make it easier for customers to select products and plans based on their individual needs. The platform is very modular, which enables organizations to adopt functionality that aligns with consumption preferences, PagerDuty explained.
Organizations will now be able to choose from three product plans based on how digitally mature they are. The plans are Platform Team, Platform Business, and Enterprise. All three plans include On-Call Management and Notification capabilities. PagerDuty Modern Incident Response, PagerDuty Event Intelligence, and PagerDuty Visibility are included with the Enterprise plan and can be added to the Platform Team and Platform Business plans, too. In addition, PagerDuty Analytics can be added to any plan.
"Our customers are accelerating their adoption of PagerDuty across a broad range of use cases, from DevOps and ITOps, to Security and Support," said Jennifer Tejada, CEO of PagerDuty. "Our goal with the new modular platform is to reduce friction and make it even easier for customers of all sizes to take advantage of PagerDuty and rapidly realize business value."