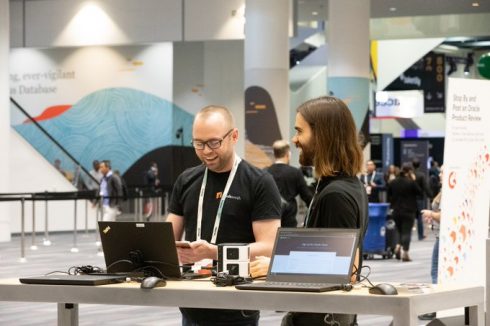 Oracle OpenWorld kicked off yesterday in San Francisco. Oracle used the event to reveal some of its latest offerings, such as Autonomous Linux and Java 13, but a number of other companies are also using the event to announce new products. 
Oracle expands partnership with Microsoft
Oracle also announced an expansion of its partnership with Microsoft aimed at boosting workplace productivity. Oracle announced a new integration between Oracle Digital Assistant and Microsoft Teams. 
This will allow enterprise customers to access Oracle Cloud Applications using an AI assistant in Teams. 
"Using Oracle Digital Assistant, business users can simply and conversationally interact with business applications directly from their Microsoft Teams interface just as they would collaborate with their fellow employees or other productivity tools," said Suhas Uliyar, vice president of AI and Digital Assistant at Oracle. "Completing daily work tasks becomes much more efficient as the AI-trained conversational access doesn't require additional employee training on different applications. This is yet another way we are enabling customers to run mission-critical enterprise workloads across Microsoft 365 and Oracle Cloud."
Eclipse Che 7
The Eclipse Foundation has announced a new version of its IDE for Kubernetes, Eclipse Che. Eclipse Che 7 abstracts away some of the complexities of Kubernetes, helping to lower the learning curve for Kubernetes. 
According to Mike Milinkovich, executive director of the Eclipse Foundation, Che allows developers to focus more on the applications they are building because they don't have to spend as much time worrying about configuration and setup of the IDE. 
"Eclipse Che 7 is the culmination of more than six years of community contributions, including more than 20 vendors, delivering a tremendous boost to the productivity of cloud native development on Kubernetes," said Milinkovich. "As the world's first Kubernetes-native IDE, Che 7 makes the developer and production environments the same on a scalable, collaborative, and secure platform specifically designed for building containerized applications."
Quest Software releases Toad for Oracle 13.2
Quest Software announced an update to Toad for Oracle, which is a toolset for managing databases. Toad for Oracle 13.2 introduces a new utPLSQL unit test creation model. This makes it easier for developers to incorporate unit testing into database development.
The company believes this new feature will play a significant role in reducing "disruptive and expensive unplanned development cycles, minimizing costly defects and risks in production."
Data Intensity reveals automation-as-a-service offering
Data Intensity is launching a new automation-as-a-service offering. This new solution will help customers scale their automation footprint by implementing a "flexible, consumption-based SaaS-like delivery model." 
According to Data Intensity, this new solution is made up of three components: process automation, integration automation, and intelligent automation. 
ManageEngine adds monitoring support for Oracle Cloud Infrastructure
ManageEngine is adding monitoring support for Oracle Cloud Infrastructure (OCI). According to ManageEngine, this will allow IT teams to gain visibility into the health and performance of the OCI Compute service.
The company also announced that the virtualization monitoring module of Applications Manager now supports Oracle VM. This will help organizations get a 360-degree view into OCI and Oracle VM performance, receive actionable alerts on issues, and monitor resource utilization.  
Deloitte launches new digital accelerator
Deloitte has announced a new digital accelerator called Deloitte Ascend that is designed to drive innovation, improve performance, and enable enterprise digital transformation. The solution will help simplify business processes, automate delivery activities, and standardize core business processes. 
"In our globally connected world, it's no longer enough for most organizations to simply migrate to a cloud platform," said Mark Walsh, principal and U.S. enterprise performance portfolio leader, Deloitte Consulting LLP. "With Deloitte Ascend, we combine our industry-leading practices and digital insights across dozens of industries with deep, award-winning Oracle Cloud experience to help our clients deliver new and compelling levels of performance across their enterprise."