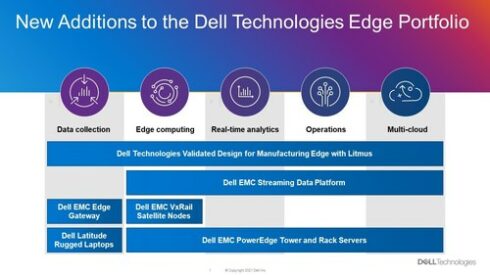 Dell has announced a number of innovations across its edge infrastructure portfolio. Updates encompass Dell EMC VxRail satellite nodes, the Litmus Industrial IoT edge platform, Dell EMC Edge Gateway, Dell EMC Streaming Data Platform, and Latitude 5430 Rugged and Latitude 7330 Rugged Extreme.
"The edge is technology's next great frontier, and it's all around us, everywhere from retail to manufacturing, smart cities and hospitals," said Michael Dell, chairman and chief executive officer of Dell Technologies. "At Dell, we're innovating simple solutions, so organizations can analyze data closer to where it's created, make faster decisions, improve outcomes and drive progress."
CAST AI raises $10 million in Series A 
The company provides cost optimization solutions for running cloud-native applications. It will use this new funding to develop its Autonomous Kubernetes cloud management platform. 
This Series A round was led by Cota Capital, with participation from Samsung Next and others. 
"The adoption of Kubernetes continues to grow as containers and microservice architecture become the defacto standard to serve modern applications at scale," said Raymond Liao, managing director of Samsung Next. "Our team is thrilled to participate in CAST AI's latest round, as the company advances its quest to make Infrastructure as a Service (IaaS) more efficient and on budget."
Oracle joins ONUG Collaborative 
ONUG Collaborative is a group that is working to provide solutions to major cloud issues, such as security and data protection. With this latest addition, four of the top five cloud services providers are now in the organization, according to ONUG. 
"ONUG is honored to grow the Collaborative with so many well-respected and innovative companies," said Nick Lippis, co-founder and co-chairman of ONUG. "As more prominent industry players join the community, we are making even greater progress in creating an open source standard to reduce the wall of worry that comes from increasing security alerts in multi-cloud environments."