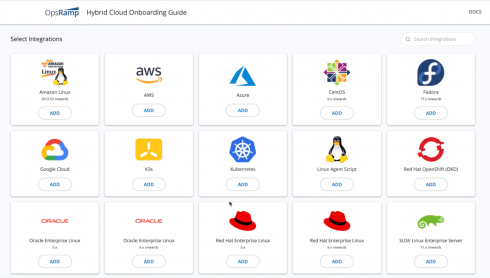 The OpsRamp Spring 2021 release is now available, and it includes faster onboarding, observability improvements, data-driven insights, and more. 
To help with onboarding, OpsRamp offers a hybrid cloud wizard that provides a guide for discovering and monitoring cloud native infrastructure. Once IT teams provide OpsRamp with information on their infrastructure, the platform will automatically be able to onboard cloud resources and display performance metrics in a matter of minutes, according to the company. Support for rapid onboarding is available on AWS, Microsoft Azure, and Google Cloud Platform (GCP); and Kubernetes distributions like OpenShift or K3s; and Linux distributions. 
With the OpsRamp Spring 2021 release, Kubernetes administrators can ingest Prometheus metrics into OpsRamps. Its pull-based mechanism for Prometheus allows for faster visualization, data federation, and long-term retention of insights, the company explained.
The new dashboard also provides improved visualization, powered by Prometheus Query Language. Administrators can import or export dashboards and customize color palettes and fonts. 
According to OpsRamp, this release also adds new alert definition models, in which administrators can set thresholds to generate alerts for auto-monitored resources. 
It also expanded coverage for its Microsoft Azure integration with support for Blob Storage, Table Storage, File Storage, BatchAI Workspaces, BlockChain, Databox Edge, Logic Integration Service Environment, and Kusto Clusters. 
Finally, it offers the ability to ingest Cisco HyperFlex events into the OpsRamp AIOps platform. This enables faster root cause analysis, according to OpsRamp. 
"CloudOps teams are shackled by legacy IT operations tools that were never designed to handle the dynamic and ephemeral nature of public cloud infrastructure," said Ciaran Byrne, VP of product management at OpsRamp. "OpsRamp's digital operations management platform enables faster discovery and monitoring of production workloads across multi-cloud environments along with data-driven insights for managing the health and performance of a distributed infrastructure ecosystem."