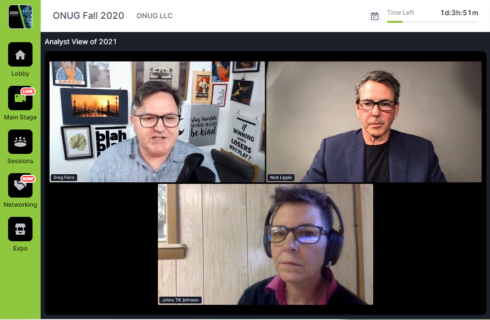 2020 has been one of the most unpredictable years in recent history. Even so, that isn't stopping analysts from making predictions for what's to come in 2021.
In a session at ONUG Fall 2020, analysts Nick Lippis, Greg Ferro and Johna Till Johnson set out to predict what the IT industry will look like in 2021. 
Johnson predicts that investment in IT is going to go up, while investment in real estate will go down. "Essentially IT saved them for COVID-19 because people were able to move very easily to working from home because of the IT infrastructure," she said. Companies will work towards having "fewer, smarter buildings." Johnson believes remote working is here to stay and will even expand.
Rather than being the default, employees will need to justify their cases for having to go into the office, Johnson said.
Lippis is already seeing IT sales going up. For example, Apple had their largest quarterly sales during the pandemic. 
Ferro cautions against generalizing every company, as there are plenty of companies that aren't investing in IT right now, even if overall the numbers are going up. "Just because Amazon or Google is spending in IT doesn't mean IT is up overall…IT spending will increase, but it won't increase across the board," he said.
"Systemically what we're seeing is that big offices are on the block and are now remote first," said Lippis.
Ferro disagreed. "Whatever remote access you have isn't remote working," said Ferro. What we really need to be talking about is distributed work. The distinction is that remote access means you're accessing legacy systems, while distributed working is about getting people to work collaboratively over tools like Slack, how to get teams meeting every week, etc.
The conversation got heated when the analysts started talking about 5G, with Johnson and Ferro having completely different opinions on it. Ferro believes 5G is overrated and there is nothing in it for consumers. He believes the 5G bubble will pop. The only benefit is for telco companies who have to upgrade their infrastructure anyway, and are 10 years late, and 5G is an excuse to upcharge customers, he said. 
"Wrong, wrong, wrong, and wrong," said Johnson. She believes that in the IoT space people are moving to private 5G as quick as they can for the capabilities it brings. 
"If we needed network slicing, we would have had it already. We've had that technology for 20 years," Ferro said in response.
"We've had the technology, but not the use case," was Johnson's response. "In the broad sense, we need fewer, smarter buildings." She said the companies that she talks with are beating up the service providers trying to get 5G. 
Ferro believes private 5G is an attempt to open up a new market that doesn't exist, while Johnson says she has talked to companies for whom it does exist. When Johnson's company surveyed 400 companies and asked them what protocols they would use for deploying IoT, 4G and 5G were at the top, with Wi-Fi coming in third. 
Everyone seemed to agree on zero trust networks, or software-defined perimeter (SDP) networks. Ferro is seeing a rise in SDP networks regardless of whether you're working in an office or remotely. Tools for SDP will kill campus networks, SD-WAN, and SaaS, he said. 
"SD-WAN is already dead, SaaS is still here, but COVID has driven us into distributed working so software-defined perimeter is where it's at," Ferro said.