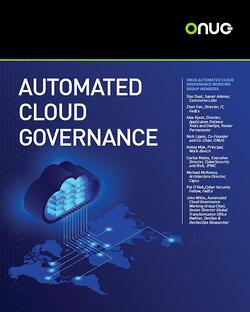 ONUG, an enterprise technology consumer driven community, has announced a new white paper on achieving automated cloud governance. The white paper is meant to address lack of cloud infrastructure visibility and ensure all aspects of the deployment pipeline are protected in today's cloud era.
The white paper is the first project to be released by ONUG Collaborative Automated Cloud Governance Working Group, which aims  to identify and provide solutions to cross-industry enterprise issues. 
"The first project of the ONUG Collaborative focused on automating cloud governance as governance gets in the way of all digital transformation projects and is usually the root cause of failure thanks to lack of control of information and data", said Nick Lippis, co-founder of ONUG.
The Automated Cloud Governance white paper will provide a framework for achieving automated cloud governance, explore solutions, create a conversation around the critical role governance plays. Additionally, it will go over cloud transparency, cloud standardization identity and data format, and cloud security center framework standardization. 
Founding members of ONUG Collaborative include FedEx, Cigna, Raytheon Technologies and ONUG.
"FedEx like so many large companies have a team dedicated to translating disparate data from the cloud providers. Today, Governance is mostly a manual process and automating it would address company's "pain points." Providing a framework to code policy and governance would result in agility, choice, options and security for large enterprise cloud consumers," ONUG wrote in an email detailing the white paper.