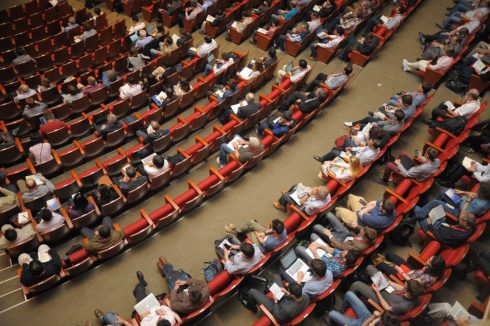 The yearly gathering of IT leaders, ONUG Fall 2019, kicked off yesterday in New York City. At the event, IT leaders c0me together to share best practices and insights. 
The event lasts two days and is stuffed with training workshops, IT executive roundtables, and keynotes. Several companies are also announcing new products or showcasing their products at ONUG Fall 2019. 
Here are some of the highlights:
NetBeez announces new hybrid multi-cloud monitoring solution
NetBeez announced a new solution for hybrid multi-cloud monitoring. This solution provides remote monitoring and real-time visibility into complex networks. According to NetBeez, it will significantly reduce troubleshooting time and improve uptime. 
"To successfully operate hybrid and multi-cloud networks, today's IT teams need to implement end-to-end, real-time network performance monitoring," said Stefano Gridelli, CEO of NetBeez. "The NetBeez monitoring platform provides IT teams with cloud-aware tools allowing IT to easily monitor across their growing hybrid and multi-cloud network infrastructure." 
In addition, NetBeez also announced version 3.0 of its flagship platform, which will be available at the end of October.  This release introduces WiFi connection timing, which periodically tests association, authentication, and the DHCP phase of an 802.11 connection. This will help simplify the detection and troubleshooting of WiFi connectivity issues, the company explained. 
Gluware Automation v3.6 now available
Gluware announced a new release of its intelligent network automation platform. Gluware Automation v3.6 expands infrastructure integrations, such as integrations with Mist and Ansible, in addition to introducing life cycle management enhancements. 
Life cycle management improvements include a new OS manager application, an intelligent model discovery workflow, and a state assessment that allows organizations to perform pre/post checks of operational states. 
"IT organizations increasingly struggle to keep up with efficiently and effectively automating and orchestrating their complex, global networks," said Jeff Gray, CEO and co-founder of Gluware. "Gluware 3.6 opens the door for companies that need to unlock the potential of their unique enterprise network architecture including those working with Mist or Ansible."
Demos and product showcases
In addition to new announcements, several companies are at the event showcasing and demoing their products, including:
Anuta Networks is showcasing its low-code and closed-loop automation
Itential is showing its infrastructure as code for cloud network automation
The AIOps for Hybrid Multi-Cloud Working Group is showing off its multi-domain data virtualization framework