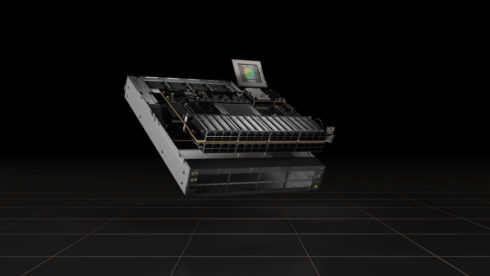 NVIDIA has announced a number of new solutions and updates at its GTC conference. One main highlight is its announcement of Spectrum-4.
Spectrum-4 is the next generation of the company's Ethernet platform. According to the company, this latest version will enable the robust performance and security that is necessary to run data center infrastructure at a large scale. 
It offers a four-time increase in switching throughput when compared to previous generations. The platform includes the Spectrum-4 switch family, NVIDIA ConnectX–7 SmartNIC, NVIDIA BlueField-3 DPU, and the DOCA data center infrastructure software. 
According to NVIDIA, Spectrum-4 switches will enable nanosecond time precision, whereas typical data centers only can offer millisecond time precision. Other benchmarks include 2x faster per-port bandwidth, 4x fewer switches, and 40% lower power consumption when compared to previous generations. 
The new BlueField DPUs offload to Red Hat OpenShift, which enables integration of tenant and infrastructure clusters with automation and deployment tools. This allows companies to run complex containerized workloads on them.
In addition, BlueField DPUs are crucial in VMware's Project Monterey, and customers can now get access to a beta of the project through NVIDIA LaunchPad, which is a platform for deploying data-driven applications. 
"A new era of massive-scale cloud technologies, such as Omniverse, requires a transformation of data center architecture," said Kevin Deierling, vice president of Networking at NVIDIA. "The Spectrum-4 platform's extreme performance and robust security will equip data centers to power breakthrough discoveries that push the boundaries of what's possible for the benefit of society."
NVIDIA announces Hopper Architecture
Named for computer science pioneer Grace Hopper, the Hopper Architecture is a next-generation accelerated computing architecture. It is the successor to the two-year-old NVIDIA Ampere architecture. 
Along with this announcement, the company also revealed the first GPU based on Hopper, the NVIDIA H100. The H100 includes 80 billion transistors, as well as features like a Transformer Engine and a scalable NVLink interconnect for advancing AI language models, recommendation systems, genomics, and digital twins. 
New features in Omniverse
Omniverse is the company's 3D design collaboration platform, and the updates span Omniverse Create, Machinima, and Showroom.
Omniverse Create, which also utilizes the USD format, now includes USD support for NURBS curves, which is a curve modeling that can be used for hair, particles, and more. Other new features include a graph editor and ActionGraph feature. 
New features in Omniverse Machinima include tools for artists to "remix, recreate, and redefine animated video game storytelling."
And finally, Omniverse Showroom includes seven new scenes. Digital artists will be able to view demos that showcase PhysX, rigid and soft body dynamics, flow, combustible fluid, smoke and fire, and blast. 
Omniverse Cloud launched to connect million of designers
In addition to those new features, the company also announced a new cloud version of Omniverse. This will allow artists and creators to instantly access the platform. 
One of the new services along with Omniverse Cloud is Nucleus Cloud, which is a sharing tool that allows artists to access and edit 3D scenes from wherever they are. Omniverse Create and Omniverse View are also included in the cloud offering. 
"Designers working remotely collaborate as if in the same studio. Factory planners work inside a digital twin of the real plant to design a new production flow. Software engineers test a new software build on the digital twin of a self-driving car before releasing it to the fleet. A new wave of work is coming that can only be done in virtual worlds," said Jensen Huang, founder and CEO of NVIDIA. "Omniverse Cloud will connect tens of millions of designers and creators, and billions of future AIs and robotic systems."
NVIDIA OVX unveiled
NVIDIA OVX is a computing system for powering digital twins. It was designed for running digital twin simulations within Omniverse. 
The system makes use of GPU-accelerated compute, graphics, and AI, combined with high-speed storage access, low-latency networking, and precision timing. 
NVIDIA hopes that companies will be able to make use of this technology to evaluate and test complex systems and processes. 
Jetson AGX Orin developer kit released
The developer kit was designed with the intention of being used to advance robotics and edge AI. It consists of NVIDIA Ampere architecture GPU, Arm Cortex-A78AE CPUs, next-generation deep learning and vision accelerators, high-speed interfaces, faster memory bandwidth and multimodal sensor support.
The kit will allow developers to access the full NVIDIA CUDA-X stack, NVIDIA JetPack SDK, pretrained models from NVIDIA NGC, and the latest frameworks and tools for development and optimization. 
"As AI transforms manufacturing, healthcare, retail, transportation, smart cities and other essential sectors of the economy, demand for processing continues to surge," said Deepu Talla, vice president of Embedded and Edge Computing at NVIDIA. "A million developers and more than 6,000 companies have already turned to Jetson. The availability of Jetson AGX Orin will supercharge the efforts of the entire industry as it builds the next generation of robotics and edge AI products."