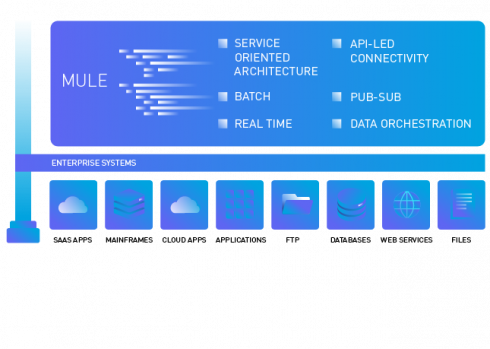 MuleSoft has announced the latest release of Anypoint Platform, referred to as Titan. Titan comes new capabilities designed to make it easy to deploy, secure, and monitor composite applications across cloud environments.
According to the company, the release of Titan will help accelerate digital transformation by providing increased security, visibility, and flexibility. It will drive development speed and efficiency throughout the entire lifecycle of composite applications.
"IT teams are struggling to manage the acceleration of new technology adoption, as well as the new capabilities and services being created inside of their organizations every day. With the Titan release, IT can fuel internal organization momentum to innovate and drive business outcomes faster, while maintaining security and control," said Mark Dao, chief product officer, MuleSoft. "The release bolsters our API-led connectivity approach and commitment to our customers by delivering powerful and secure application networks that scale globally and can be deployed anywhere."
It includes a new runtime version that automates and simplifies complex integration tasks as well as expands the scope of reusable assets. It offers a container service for Mule applications that allows for rapid deployment on common cloud providers and on-premises.
It features a more modern security model for distributed architectures featuring policy-driven, enterprise-grade perimeter gateways and automatic tokenization and encryption according to the company. Customers will also be able to better meet government-mandated compliance standards, such as the General Data Protection Regulation (GDPR).
Titan also features a new monitoring service that provides real-time insights, dependency mapping, and instant access to historical log data across APIs and integrations. This will enable operations teams to speed up issue identification and root cause analytics.
Finally, Titan is expanding MuleSoft's ecosystem by adding new certified connectors such as SAP BusinessObjects BI, Docker, Microsoft Office 365, Google DFP, Edifecs XEngine Server, Zoho Books, and Amazon DynamoDB.