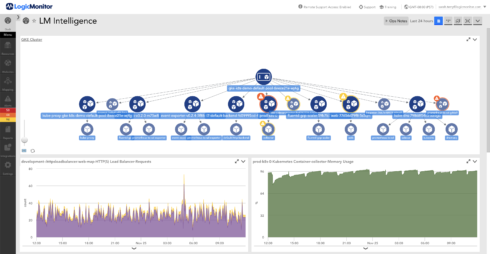 LogicMonitor has announced that its new AIOps early warning system is now available. This system is an addition to the LM Intelligence AIOps solution.
"LM Intelligence is our AIOps platform, and how we look at it is the platform gives a way to build intelligent algorithms on top of the data streams that are coming to the platform," said Tej Redkar, chief product officer at LogicMonitor. "And those algorithms, we are grouping those algorithms into driving very specific solutions and so one of such solutions is the early warning system, which is based on understanding what's happening, detecting the signals from all this data noise that's coming in, and then making that signal actionable for the end user, and then ultimately letting the end user take the action onto that signal."
The AIOps early warning system was designed to provide warning indicators for upcoming issues. Combined with LM Intelligence, this system will help enterprises predict and prevents outages. This will save IT teams time and money.
According to Redkar, one of the special things about this early warning system is that it can "intelligently detect signal from the noise." Redkar explains that the system is analogous to RADAR. RADAR first tries to find what is normal because without knowing what it normal, it's hard to determine what is abnormal. "So filtering that noise is extremely important to get that signal. Because the last thing that users want is false positives in terms of signals. Because you don't want big actions where an action is not needed," said Redkar.
Redkar explained that ultimately, this system will help IT teams prevent SLA failures and delivery consistently positive customer experiences.