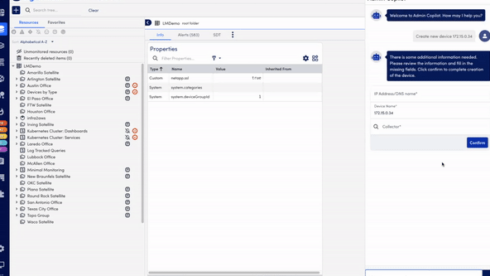 The observability platform LogicMonitor is releasing a new generative AI solution, LM Co-Pilot, that can be utilized by IT operations teams.
According to a recent survey conducted by the company, over a quarter of IT leaders responded that they had deferred troubleshooting an incident to a development team. LM Co-Pilot was designed to enable IT teams to solve issues on their own without needing expertise from another team.
The generative AI tool searches through documentation and support articles and provides IT teams with a refined answer to their problem. 
It also can help with administrative tasks, streamlining multi-step and multi-page tasks into a "single interactive experience." 
"One of the benefits of generative AI is its ability to take massive amounts of information and distill it into a rich, yet refined, interactive experience. While there are several applications for this, we want to initially target experiences that we can immediately improve," said Taggart Matthiesen, chief product officer at LogicMonitor. "With Co-pilot, we can condense multiple steps into an interactive experience, helping our users immediately access our entire support catalog at the tip of their fingers. This is really an evolutionary step in content discovery and delivery. Co-Pilot minimizes error-prone activities, saves our users time, and exposes them to contextually relevant information."  
Ethan Bateman, an IT manager in the service architecture division of Louisiana State University's Network Operations Center, said of their implementation of LM Co-Pilot: "AI-driven capabilities need to seamlessly integrate into our existing infrastructure to enable the evolution of our IT operations. Introducing the right capabilities allows us to be more agile and proactive, ensuring our teams remain free to innovate with confidence, deliver exceptional customer and user experience."