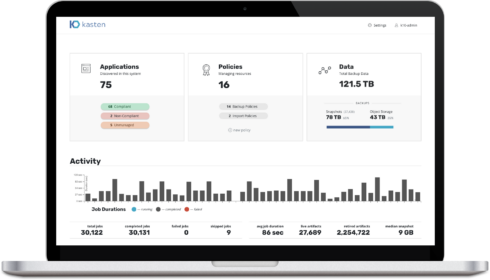 The new Kasten K10 V5.0 offers enhanced Kubernetes security, streamlined CI/CD pipelines, and ecosystem advances to help apply shift-left security to data protection.
"Our latest release remains focused on helping enterprises minimize the financial impact caused by attacks on data and cloud applications. At the same time, we're also supporting developer needs for backup solutions that not only integrate with the CI/CD tools they use but pave the way for automation to detect and protect applications as they get deployed," said Gaurav Rishi, the vice president of products and partnerships at Kasten by Veeam.
The new release comes as organizations struggle to accommodate agile, shift-left development, and distributed deployment environments. It offers a cloud-native solution to replace appliance-based approaches to ensure secure and reliable backup.
One key feature is enhanced platform hardening, including KMS integration with AWS KMS and HashiCorp Vault, with the ease of using Kubernetes-native RBAC objects exposed in UI dashboards, ransomware attack detection with AWS S3 or S3-compatible storage supporting S3 Object Lock, data protection policy guardrails, and support for Veeam-hardened Linux repositories.
Also, the new version includes fully integrated add-ons for newly launched Amazon EKS Blueprints, Level III certified Red Hat OpenShift Operator with full lifecycle capabilities, and built-in Kanister blueprints for MS SQL and PostgreSQL Operator and simplified UX for Operations with new Blueprint Editor.
Lastly, the new version includes support for Red Hat Marketplace, SUSE Rancher Marketplace, VMWare vSphere with Tanzu and Falco.