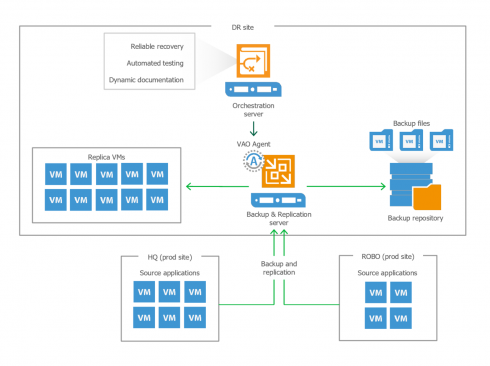 Veeam Software has announced that it is expanding its orchestration capabilities in the latest release of the Veeam Availability Orchestrator. Version 2 will allow organizations to address a wider range of disaster recovery and data migration use cases.
Specific new features include the ability to more easily prove SLA attainment; leverage backup and replica data; and empower business units, application owners, and operations teams by giving them access to orchestration planning and testing resources, Veeam explained.
Citrix will extend Workspace to Google Cloud
Citrix has revealed its plans to bring Citrix Workspace to Google Cloud. According to Citrix, this move will give companies more flexibility when transitioning to the cloud and will allow them to quickly deliver apps to Google devices and operating systems.
"As companies move more apps to the cloud, they need an easy, secure way for employees to access them anywhere, anytime from any device," said David Henshall, president and CEO of Citrix. "In delivering Citrix Workspace for Google Cloud, we are enabling our customers to accelerate their digital transformations and deliver a simple, intuitive experience for their users."
Tenable expands its Cyber Exposure ecosystem
Tenable has announced that it is expanding its Cyber Exposure ecosystem with the addition of 19 new technology integrations ranging from Mobile Device Management, public cloud infrastructure, and SIEM and ITSM solutions, Tenable explained.
The company also announced new analytics capabilities in Tenable Lumin. According to Tenable, these innovations utilize machine learning to correlate vulnerability and threat data with asset criticality. The new Cyber Exposure Score provides an objective measure of cyber risk,  Cyber Exposure benchmarking enables companies to benchmark themselves against the industry, and Remediation Guidance Workflow provides a list of the most highly recommended remediation actions for reducing cyber exposure.
Signal Sciences announces the release of Cloud WAF
Signal Sciences latest release of Cloud WAF is designed to give business visibility and protection for critical web applications, APIs, and microservices.
Key benefits of the solution include: minimal installation and maintenance; effective protection; full feature parity across deployment options; unified management; and the ability to deploy the solution in minutes.
"We're excited for what Signal Sciences Cloud WAF offers enterprises, particularly those that have lived through the cumbersome and lengthy installation and maintenance processes of legacy WAF solutions," said Hala Al-Adwan, vice president of technology at Signal Sciences. "Now security and DevOps teams can protect all of their web layer assets across distributed infrastructure quickly and easily, and benefit from the flexibility and deployment options they need to stay ahead of security threats and operate more efficiently at scale."