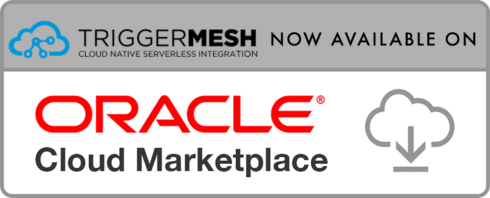 TriggerMesh has announced that it is now available on the Oracle Cloud Marketplace, which is a repository of applications offered by Oracle and its partners. 
According to Oracle, its addition of TriggerMesh will allow it to provide cloud-enabled integration solutions to help customers meet their business needs. 
"We are very excited to be able to provide integrations between Oracle's widely deployed database and cloud native infrastructure, as well as provide ways to automate cloud native workflows on Oracle Cloud," said Sebastien Goasguen, chief product officer and co-founder of TriggerMesh. "TriggerMesh's participation in Oracle Cloud Marketplace further extends our commitment to the Oracle community and enables customers to easily reap the benefits of TriggerMesh's Cloud Native Integration Platform. We look forward to leveraging the power of the Oracle Cloud to help us achieve our business goals."
ExaGrid 6.0 announced
The latest version will introduce Retention Time-Lock, which is a new approach to protecting backup data to enable fast recovery from ransomware. Other new features include user interface improvements, streamlined navigation experience, and deduplication and replication performance improvements. 
ExaGrid 6.0 also introduces a number of other security enhancements, including a new security officer role, two-factor authentication, additional control over SSH access, the ability to utilize Active Directory credentials to control share and user interface access, security checklist, and automatic user interface logout. 
ExaGrid 6.0 will begin shipping on September 18.
JumpCloud announces Okta integration
The integration allows IT admins to provision a user once and then extend their access across IT resources, including Windows, Mac, and Linux devices; server platforms and cloud infrastructure, on-premise or web based applications, file server, WiFi, and VPNs. 
"Through our newly released integration to Okta, end users can easily connect to virtually all of their IT resources while IT can leverage JumpCloud'sCloud Directory Platform to extend their ability to provision and deprovision an end user in one spot," said Lindsey Bond, technical product manager at JumpCloud. "JumpCloud aims to make the entire identity access and device management cycle convenient across different operating systems, applications, and networks. This newly released integration with Okta unlocks more value for users of JumpCloud and Okta."
The integration is now available for free through the Okta Integration Network (OIN).