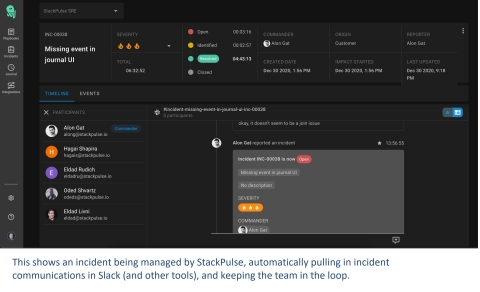 StackPulse has announced a free version of its reliability platform, giving developers, DevOps, and SRE teams a more cost effective way to respond to software outages, automate operations, and provide more reliable software. 
StackPulse Free includes code-based playbooks for automation, and integration into existing monitoring, observability, and communications tools. The other paid version, StackPulse Enterprise, includes everything the free version does in addition to support for multiple environments or public clouds, a fully exposed API, and retention of event, alert, incident, and response data. 
"While traditional platforms for responding to service outages are focused on on-call alerting, ticketing, and collaboration, StackPulse is built to fit into DevOps workflows used by modern software development teams," said Leonid Belkind, co-founder and CTO of StackPulse. "By delivering reliability via code, StackPulse helps teams easily share knowledge and best practices, and support complex services without unneeded on-call escalations."
Logz.io launches Prometheus-as-a-Service for its infrastructure monitoring solution
The new service will make it easier for customers to scale their cloud and Kubernetes workloads without the overhead of managing siloed tools. 
According to Logz.io, when users typically run Prometheus, they often run multiple servers, have short data retention, and struggle to investigate incidents. It hopes this new Prometheus-as-a-Service offering will enable users to gain the benefits of Prometheus while handing off the storage requirements to Logz.io. 
"Prometheus is considered the best open source metrics solution in the community. But as users need to maintain more than one Prometheus server, scale it and correlate it with logs, it can become impossible to manage at scale," says Asaf Yigal, co-founder and vice president of product at Logz.io. "Our goal at Logz.io is to continually enhance and improve the open source tools, so users don't have to choose between scaling them or exiting the open source community altogether. We couldn't be more proud to enable our customers with the best of both worlds–a scalable, Prometheus-based offering, that significantly enhances the open source vanilla version and we look forward to seeing how our customers use it to build incredible products."
IFS launches IFS Cloud
IFS Cloud is a platform that connects all of the IFS products, enabling customers to pick and choose which solutions to deploy. It will also enable them to connect value chains across areas like enterprise resource planning (ERP), customer relationship management (CRM), human capital management (HCM), asset management (EAM), and field service (FSM).
According to the company, IFS Cloud will enable companies to scale while being able to easily switch on new functionality as needed. 
"The path to digital transformation is not a simple one," said Darren Roos, CEO of IFS. "Most businesses are complex and have intricate value chains, which is why few organizations succeed and even fewer vendors provide the tools to truly enable it. At IFS, our single most important goal is to deliver value to our customers, and we want to provide a clear path for them to evolve to new business models, compete and win."