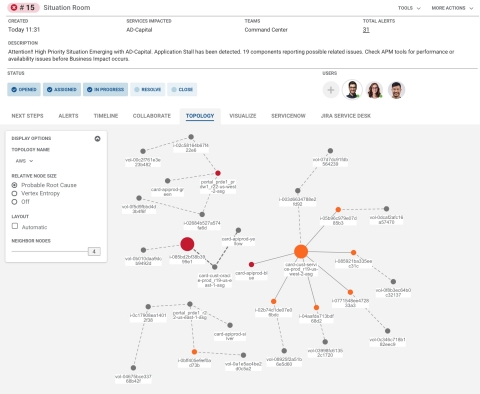 Moogsoft Enterprise 8.0 is now available. The latest version introduces the ability to build a virtual Network Operations Center (NOC). With a virtual NOC, organizations will be able to collaborate on incident diagnosis and resolution no matter where they are located. 
Other new features in Moogsoft Enterprise 8.0 include Alert Analyzer, Dynamic Topology Builder, an enhanced Workflow Engine, and enhanced correlation and versioning of ML configurations. 
The company also announced new integrations, one of which is with PagerDuty. Their new joint solution will help surface incidents and send them to the proper teams for faster incident response. "The scale and complexity of IT powering today's digital economy produces more data than traditional operations management approaches can support," said Jonathan Rende, senior vice president at PagerDuty. "Integrating the Moogsoft AIOps platform with PagerDuty helps DevOps and SREs build better ways to identify critical incidents across cloud workloads, cloud-native applications, containers, microservices, and serverless computing, and prevent those from becoming brand-damaging outages, hence further advancing our 'Virtualize the NOC' initiative."
Fedora 32 now available
New features in Fedora 32 include updates to the desktop edition, a new computational neuroscience lab image, and improvements in support for Arm devices. 
"The Fedora Project has continued to help advance free and open source software that prioritizes bringing industry leading Linux innovation to our users," said Matthew Miller, Fedora project leader at Red Hat. "Fedora 32 showcases that commitment with the introduction of EarlyOOM and the addition of the prepackaged Computational Neuroscience Lab image aimed at bringing more people from the science field into open source."
NVIDIA finalizes acquisition of Mellanox
This acquisition was first announced on March 11 and brings together two leading computing companies. NVIDIA hopes that by adding Mellanox to its portfolio, it will be able to offer customers higher computing performance at a lower cost. 
"The expanding use of AI and data science is reshaping computing and data center architectures," said Jensen Huang, founder and CEO of NVIDIA. "With Mellanox, the new NVIDIA has end-to-end technologies from AI computing to networking, full-stack offerings from processors to software, and significant scale to advance next-generation data centers. Our combined expertise, supported by a rich ecosystem of partners, will meet the challenge of surging global demand for consumer internet services, and the application of AI and accelerated data science from cloud to edge to robotics."
TrilioVault for Kubernetes now in early access
This service will provide backup and recovery for every aspect of an application, including data, metadata, and Kubernetes objects. 
The solution currently supports Kubernetes applications provisioned using Operators, Helm, or Labels. According to Trilio, this new service is also cloud agnostic, which will provide customers flexibility in moving applications across public and private cloud infrastructures.