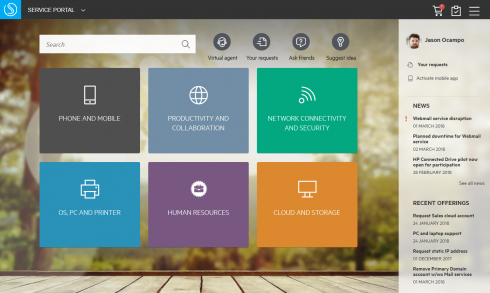 Micro Focus has announced a new release of its service desk and asset management solution. Service Management Automation X (SMAX) 2019.5 features a new smart virtual agent called Max that understands natural language. The Micro Focus Marketplace now also includes codeless SMAX Studio Apps for Capacity and SecOps.
"SMAX was designed from the ground up to meet the challenges of modern IT organizations, enabling delivery and governance of services on demand while providing features that can engage users while driving down support and operational costs," said Tom Goguen, chief product officer of Micro Focus. "Its unique cloud-native architecture and codeless configuration for future proof upgrades ensures lower overall cost of ownership vs. legacy SaaS and on-premises based toolkits."
Hexaware launches new cloud transformation platform
IT company Hexaware has announced a new cloud transformation platform for data in Microsoft Azure. Hexaware customers will now be able to use Microsoft Azure tools, including Machine Learning Studio, Microsoft Cognitive Services, Azure Data Factory, and Power BI.
The new solution, Cloud Enterprise Data Management and Analytics (EDMA), will also allow users to leverage Microsoft Azure for data warehousing and analytics.
Keyfactor acquires Red Trust
Digital identity management provider Keyfactor has acquired another identity manager, Redtrust.
According to Keyfactor's CEO Jordan Rackie, both companies view trust and reputation as top priorities. This acquisition will also support Keyfactor's global expansion initiatives, Rackie explained.
"We found the perfect partner with Keyfactor, and I'm thrilled for Redtrust to reach this important company milestone," said Daniel Rodriguez, CEO at Redtrust. "Together we have a shared vision for the future of trust, and an obsession with technical excellence and customer success. We're now on an unstoppable mission to secure the digital identities for companies of all sizes, in any market."
RavenDB announces cloud database
Database provider RavenDB has announced a new managed database service. RavenDB Cloud handles tasks such as maintaining server hardware, installation, configuration, monitoring, and security.
In addition, RavenDB Cloud will include metrics that will help enable cost optimization. The solution is now available on AWS and Microsoft Azure in all regions.
"We are excited to be launching our new RavenDB Cloud service to provide a package that includes everything you need in one box to minimize complexity, maintain high availability and deliver predictability in cost, performance and service," said Oren Eini, CEO of RavenDB. "Our objective is to completely remove all the grunt work associated with acquiring, configuring and maintaining a database so that users can focus more on their application and how it works with their data."