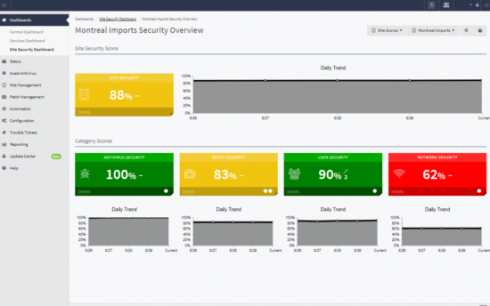 Security company Barracuda has announced updates to its remote monitoring and management (RMM) platform Barracuda RMM. Key updates include integrations with Windows Defender, updates to Microsoft and third-party patch management, tighter integration with Barracuda Intronis Backup, and ServiceNow Service Desk integration. 
"The continued enhancements we are making to Barracuda RMM are part of our ongoing commitment to supporting MSPs in improving their security offerings," said Chris Crellin, senior director of product management at Barracuda MSP. "RMM tools must become part of an MSP's daily client security posture assessment and remediation. Today, we are making those tasks easier for service providers to drive business value within their customer base, by adding new features and capabilities focused on mitigating security risks and protecting customers' data and applications."
Quest Software launches update to disaster recovery tool
The latest version of Recovery Manager for Active Directory Disaster Recovery Edition (RMAD DRE) introduces a new Secure Storage solution and the ability to restore Active Directory to a clean virtual machine. 
According to Quest Software, these two new capabilities will provide companies with greater control and confidence in preparing and recovering Active Directory quickly.
"Ransomware is the number one security threat today, with 69 percent of businesses suffering an attack in 2020 alone, and an average downtime of 21 days. Following an attack, business operations cannot be restored until Active Directory is functional again. Therefore, we believe all organizations must ensure their ransomware risk mitigation strategies include a dedicated AD recovery plan to be able to get their business back up and running as quickly and safely as possible," said Michael Tweddle, president and general manager for Quest Microsoft Platform Management. "RMAD DRE 10.2 allows us to continue our commitment to providing customers more flexibility, control and confidence to ensure a fast and secure recovery in the event of a worst-case scenario."
Avaya and Microsoft announce integration
The integration brings together Avaya OneCloud CPaaS with Microsoft Azure Communication Services. According to Avaya, the integration is a key element for its partner ecosystem as it allows them to provide flexible solutions to its customers. 
"The global collaboration with Avaya is an example of how Microsoft, collaborating with other industry leaders, is meeting businesses' requirements for integrated communications solutions that transform customer and employee experience," said Scott Van Vliet, corporate vice president of Intelligent Conversation and Communications Cloud at Microsoft. "This relationship benefits from the combined strengths of the two companies to connect businesses to their customers via powerful communication experiences across platforms – all with the resiliency, enterprise-grade security and cloud scale of Microsoft Azure."