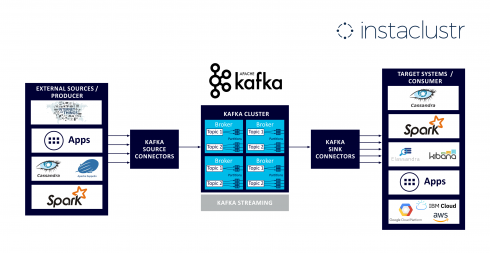 Open Source-as-a-Service platform provider Instaclustr announced the launch of its Apache Kafka managed service today, providing Kafka's high-volume data management and streaming alongside its other managed service offerings, which include Apache Cassandra, Spark, Lucene, the Elasticsearch and Apache co-production Elassandra amongst others.
The SOC2-certified service provides high throughput and availability via distributed server cluster; integrations with external stream processing layers such as Spark; zero downtime via load balancing and data replication, allowing for failure and unplanned maintenance of individual nodes; monitoring through Instaclustr's management console; and flexibility in account management and API, the company explained.
"We believe providing Kafka-as-a-Service will be uniquely beneficial to enterprises looking to take advantage of this powerful data streaming technology," Peter Nichol, CEO of Instaclustr, said in the announcement. "Our expertise with Kafka combined with our 20 million node hours under management make Instaclustr the most trusted and experienced Kafka service provider in the market. We're excited to invite all customers and interested organizations to get the most out of what Kafka has to offer by leveraging our newest managed service."
The Apache Kafka managed service is available now following an early access initiative that put Instaclustr's infrastructure through its paces with real-time data streaming at high-volume.
"Kafka can be run as a standalone managed service or integrated with the other open source data management technologies that Instaclustr provides," the company wrote in the announcement. "It is available within a choice of cloud environments, including AWS, Microsoft Azure, Google Cloud Platform, and IBM Cloud."