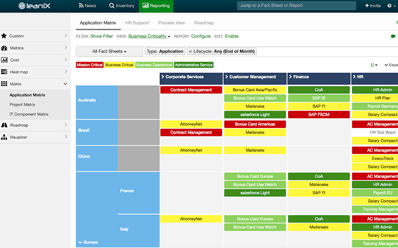 Businesses are in the midst of a digital transformation, and that means they need to rethink and replan their processes and tools. Too many enterprises are still being bogged down by legacy architectures.
According to André Christ, co-founder and co-CEO of LeanIX, a enterprise architecture tool provider, legacy architectures equate to slow business processes, decisions and lack of transparency within the IT landscape.
"Successful IT modernization requires a clear plan and ongoing maintenance," Christ said. "Staying with old architectures causes companies to overspend on maintenance of unused or end-of-life applications, draining budget for future opportunities and putting the business at risk."
According to recent research from Gartner, the reason IT departments are failing and struggling is due to inaccurate data, mismatched end user needs and unclear value propositions, Gartner explained. Christ added that having data in silos, DevOps and manual processes are also causing a problem.
Having data stored in silos can result in lack of communication and business risks due to a lack of transparency. "Enabling a free flow of data across the landscape, fostering collaboration amongst disparate business units, and uncovering areas of risk and opportunity through multi-platform application integration, is a way for organizations to break down those silos and ensure that all departments are on the same page," said Christ.
While DevOps is being used to deliver better products faster, it also transforms the way IT builds, delivers and manages solutions. That culture barrier can often lead to issues, Christ explained. "As IT prepares for the DevOps onslaught, EAs play a critical role in fostering the technology and cultural change. Companies who use microservices deploy five times faster than those using traditional methods, which is a critical change for EA as deployment is quick moving from months to multiple times per day," he said.
Additionally, manual processes can cause inefficient and inaccurate insight. "Reducing manual work and increasing data quality helps EAs move from admins to strategists. Using smart business capabilities mapping, EAs gain a clear view of their application landscape related to different business capabilities and user groups," said Christ.
In order to implement a successful EA tool, Christ explained it needs to be able to give the business an overview into everything that is happening within the IT landscape as well as integrate with other ITSM, ITAM, process modelling platforms and development activities.
"[Businesses] can quickly see which applications are being used by which business capabilities across all regions or business lines and cross-reference that with current/future state applications that are being planned, those that are active and those that are end-of-life," said Christ.
"The ability to dynamically scale while the business grows is an important advantage compared to a traditional, monolithic architecture. Without EA tools, a move to and the maintenance of modern tech like microservices would be near impossible," Christ added.