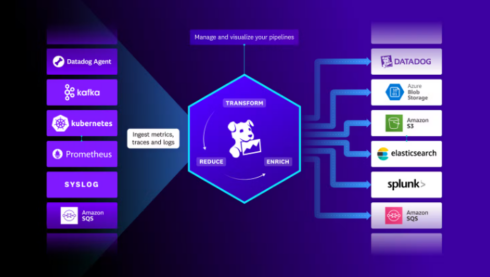 The monitoring company Datadog has announced a new tool for collecting, managing, and routing observability data. Datadog Observability Pipelines will allow companies to have more control of their observability data, which will enable them to scale their observability practice. 
"As the amount of telemetry continues to grow at an organization, teams are often completely overwhelmed—if they're not blind to—the runaway costs, reliability and compliance risks that come from a lack of visibility into infrastructure and application data," said Zach Sherman, senior product manager at Datadog. "We built Datadog Observability Pipelines to give organizations a powerful way to take back control of their data, without compromising visibility for engineering, security and SRE teams."
According to Datadog, Datadog Observability Pipelines gives a unified view of data to provide visibility into how much companies are spending and where, what tools are in use, and who has access to what. This allows them to better manage their costs, reduce vendor lock-in, and improve data quality and compliance. 
Customers also get fine control over data and can perform a number of actions on it, such as filtering, redacting, and monitoring sensitive data before it leaves the network.
In addition, Datadog says that the solution includes over 80 out-of-the-box integrations, which allows customers to collect and route data to tools that they are already using without causing disruptions to their workflow. 
Datadog Observability Pipelines is built on Vector, which is an open-source framework for building telemetry pipelines.