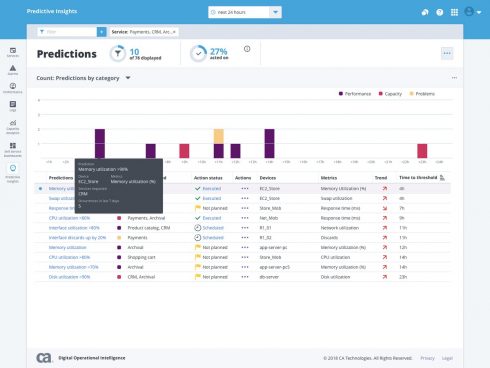 CA Technologies has revealed the CA Artificial Intelligence for IT Operations (AIOps) platform that will allow IT teams to automate or eliminate key tasks and create self-healing applications.
The platform is a combination of the power of CA Operational Intelligence and CA Automic Service Orchestration.
According to the company, the new platform normalizes, correlates, and analyzes the rapidly increasing volume of IT operational data. It will lead to superior user experiences as well as speeding innovation and increasing IT operations efficiency.
Key features of the platform include comprehensive contextual operational intelligence; proactive closed loop remediation; vendor-agnostic integrations such as Splunk, IBM, Elastic, ServiceNow, and Dynatrace; pre-packaged algorithms and CA integrations; and a powerful open-source-based engine.
"Speed, scale and customer experience define value in today's digital economy, and AI-driven systems of intelligence that increase revenue and improve operations are critical to our customers' digital transformation," said Ashok Reddy, general manager of DevOps solutions at CA Technologies. "With the advent of nondeterministic, 'self-driving' apps, only CA can deliver the AI-driven analytics and machine learning required to autonomously predict and remediate incidents whereby transforming IT into a strategic competitive advantage."