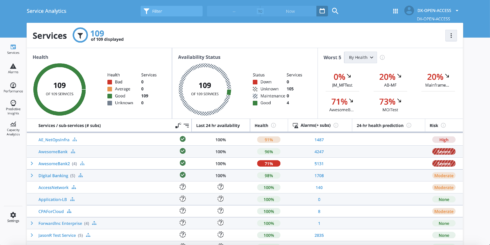 Broadcom has announced the latest version of its AIOps platform that combines artificial intelligence, machine learning, and end-to-end observability. 
According to the company, its AIOps capabilities allow business and IT leaders to manage KPIs that align IT outputs and business outcomes. This will help drive digital agility while ensuring enhanced customer and positive employee experiences. 
New features of the platform include:
Full-stack observability
DX dashboards that provide visualizations for task-based persona-driven insights
Service and alarm analytics for automatic root cause analysis, noise mitigation, alarm clustering, and anomaly detection
Intelligent automation that connects root cause analysis with out-of-the-box actions and automation strategy
Capacity analytics that provide service-aware configurations for capacity planning
Continuous feedback loops that connect data across development, IT, and business
An extensive machine learning library of algorithms, natural language processing, and an ontological graphical topology
Software to silicon insights that offer real-time proactive network congestion and packet loss triage
There were three areas the company looked at when upgrading the platform. According to  Sreenivasan Rajagopal, head of products and strategy at Broadcom, the first is that they looked at AIOps as an "open, extensible, heterogeneous platform that brings together machine data, process data, and people data." Second was to look at digital transformation as a people and misalignment challenge. The third area that influenced the platform was the large volumes of data customers were dealing with. 
"We had to create a system of intelligence that is open, that is extensible, that focuses on data as the mode of integration, not tool as the mode of integration. So we brought all of these together," said Rajagopal.
According to Rajagopal, one of the key differentiators of the new platform is that it is human-augmented. "Our IT operators, DevOps engineers, and digital product managers can interact with the system of intelligence and the system of intelligence learns from that interaction to provide better recommendations over a period of time," said Rajagopal.