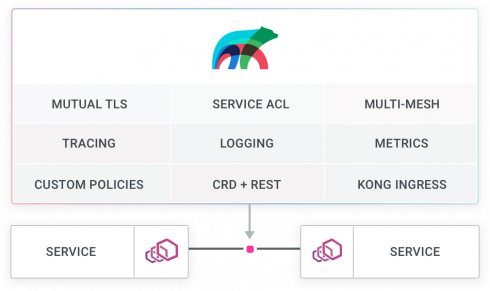 Earlier this week, Kong announced that it was releasing a new open-source service mesh, Kuma. 
Kuma is based on the Envoy proxy, which is an open-source edge and service proxy. "It's been amazing to see how quickly Envoy has been adopted by the tech community, and I'm super excited by Kong's new 'Kuma' project," said Matt Klein, creator of the Envoy proxy. "Kuma brings Kong's proven enterprise developer focus to an Envoy-based service mesh, which will make it faster and easier for companies to create and manage cloud native applications."
The project aims to address some of the limitations of first-generation service mesh technologies. According to Kong, some of the initial service meshes didn't have the ease-of-used and flexibility required to ease adoption.
Kuma will automate the process of securing the underlying network, ensuring reliability, and making things observable. 
Key features of Kuma include software-defined security, powerful productivity capabilities, and sophisticated routing & control. 
"We now have more microservices talking to each other, and connectivity between them is the most unreliable piece: prone to failures, insecure and hard to observe," said Marco Palladino, CTO and co-founder of Kong. "It was important for us to make Kuma very easy to get started with on both Kubernetes and VM environments, so developers can start using service mesh immediately even if their organization hasn't fully moved to Kubernetes yet, providing a smooth path to containerized applications and to Kubernetes itself. We are thrilled to be open sourcing Kuma and extending the adoption of Envoy, and we will continue to contribute back to the Envoy project like we have done in the past. Just as Kong transformed and modernized API gateways with our open source Kong Gateway, we are now doing that for service mesh with Kuma."