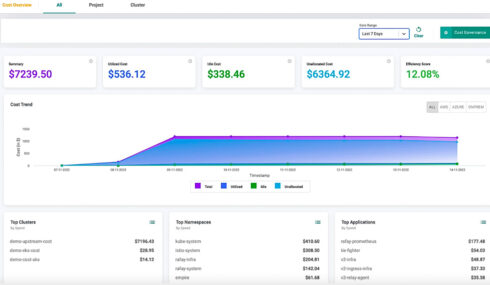 Rafay launched its Cost Management Service that is integrated into its Kubernetes Operations Platform (KOP), enabling cloud cost optimization across clusters located in public clouds and on-premise data centers. 
The launch comes as a way to help companies who struggle with Kubernetes resource consumption and reporting how spend is allocated across internal departments.
With the Cost Management Service, organizations can manage their Kubernetes footprint, have visibility and access to cost metrics, have centralizing visibility for every cluster, and have the ability to create custom dashboards to view aggregated cost metrics. 
"Kubernetes cloud cost management across multiple clusters, application teams and infrastructure is a challenging ambition. It's easy for individual application engineering teams to overprovision resources without knowing the impact to other teams and the company's overall budget," said Mohan Atreya, senior vice president of product and solutions for Rafay Systems. "Our new Cost Management Service seamlessly integrates into our Rafay Kubernetes Operations Platform, giving platform and FinOps teams a centralized, unified view of all Kubernetes cloud costs across their entire enterprise."
The service also works with other KOP services so that platform and FinOps teams can control access to visibility and chargeback data based on existing role-based access control (RBAC) settings in Rafay's Zero-Trust Access Service.